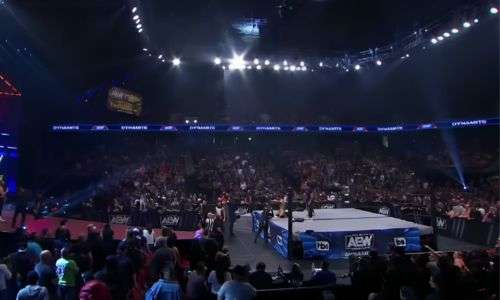 Stepping away from the conventional midcard, AEW's dynamite warriors are elevating the prestige of their respective titles, setting the stage for a fascinating comparison between the most active performers in the business. It's time to look at those crazy AEW dynamite results and moments of 25th October that may defy your initial thinking. There was a show on the 29th of October called AEW Collision, Our editor-in-chief at cricfer highlighted all the great moments of the game.
Anyway, I'm responsible for AEW Dynamite results, for this, I shall watch the sports entertainment when you can't be bothered or you can watch it on the streaming site we listed below (keep Reading). I'm always happy you tune in. Let's raise those Ups and Downs.
Notable Moments from AEW Dynamite Results
Sting's Retirement Announcement: The legendary Sting made a heartfelt retirement announcement, thanking everyone and expressing mixed emotions.
Ric Flair's Surprise Appearance: A surprise gift for Sting came in the form of Ric Flair, his longtime rival. This nostalgic moment paid tribute to their iconic WCW rivalry and added an unexpected twist to the evening.
The Hardy Party vs. The Hung Bucks: The six-man tag match featuring Matt and Jeff Hardy, Brother Z, and The Young Bucks showcased incredible in-ring action.
Swerve Strickland and Prince Nana's Home Invasion: Swerve Strickland and Prince Nana's visit to Adam Page's home added an intense and personal touch to their ongoing feud. Their creepy antics, including messing with Page's personal life, elevated the storyline.
Hikaru Shida vs. Ruby Soho: The AEW Women's World Championship match between Hikaru Shida and Ruby Soho featured intense action, memorable spots, and a creative twist with the turnbuckle pad.
RJ City, Timeless Tony Storm, and Luther's Appearance: The appearance of RJ City, Timeless Tony Storm, and Luther brought a unique and humorous element to the show.
MJF's Gauntlet of Death: MJF's ongoing gauntlet challenge continued, creating suspense and intrigue as fans wondered who would step up next and what challenges MJF would face.
MJF versus Juice Robinson (AEW Dynamite Ring)
The opening fight illustrates why contests are so important because Maxwell was facing Adam Cole. So all of a sudden, it was like, they couldn't really chat because, of course, Roderick Strong and The Kingdom turned up, and now they're just shouting "Max, Max." And he actually wants to help out MJF because, of course, he's trying to get into his inner circle. I mean, they still basically accused him of being the man in the devil mask, but they are happy to take on the Bullet Club.
When Maxwell Jacob Freeman essentially pushed them away, and I laughed. And this is when he turned to the camera and he just cut this fire promo on Juice Robinson. He also said that he was going to shoot him. So, of course, bring it down. There's a very early promo counter. You can't walk around saying things like that. MJF was just so damn good here because he did make you believe. And then we had this match, MJF versus Juice Robinson, and he won. Which means he retains the diamond ring for what, the fifth year in a row? That is a pretty good record.
Recapping the Dynamite Result Action
Well, when he was done speaking, the man in the devil's mask appeared on the screen. So now I do not think that it is our scumbag. That would be way too obvious. He also just got right in the ring and double-legged Juice Robinson. He's more of a soda guy. When he took him on the outside, he just held him into the barricade. He held him into the timekeeper's table. If there was one of our wrestling friends, they were getting merked, which was doubly true because the Guns cast distraction and Juice threw MJF into the ring post.
One of the two, I can't remember, my brain is melting, but the thing I'm trying to get across here is that MJF was bleeding. If you went quiet, somebody somewhere was so happy. It was John Moxley. I don't want to underline, though, that MJF was such a super babyface here, and he had the fans going crazy. And of course, as soon as Juice was on top, out walked Jay White. He sat down on commentary. Jay didn't agree at all. He thinks Maxwell is a goober.
They also started to choke each other, which is perfectly normal behavior. When Freeman hit the kangaroo kick, you can imagine the reaction. And also, all the way through this, there was a lot of spitting. I don't think Austin and CED like that. They were like, "It's too unhygienic." So Maxwell smashed them with a dive. And when he got back in the… What did Juice do? Hit him right in the… That led to the DDT for a great one, two, three. I mean, you knew this was going to happen, but it was the right move to make. The story here was cool as well, because essentially, they were trying to outscumbag each other. And as soon as the Bullet Club jumped in, the Kingdom came out to make the save. But those numbers do not add up. I called Scott Steiner and made sure.
Of course, this is when the Acclaim came out to help MJF, because they all want to team with him. Which also tied in, because the Guns were like, "Hey, listen, Max, we want to face you in a Ring of Honor tag team title match." And Freeman accepted. So who the heck is going to be his partner? MJF accepted, of course.
He was also like, "I need this eight-man tag so I can beat all of you." And even though the Acclaim offered their services and did the Kingdom, the World Champion basically said no to all of them. I mean, he's got to a bunny somewhere just to send this totally through the roof. As well, Kenny Omega then walked out. Oh my gosh, there's a Reddit thread come to life. Kenny Omega versus MJF. I mean, they barely interacted, and over the last week, they've become like super-duper enemies. By the end of this I was just clapping It was amazing you must watch it
Where to Watch
FITE is a prominent global digital platform that offers a wide range of top-tier events from various industries. AEW Dynamite is available to watch around the globe on Fight TV every Thursday at 1 a.m. Fans can access live and past episodes of Dynamite by signing up for Fight TV's AEW Plus subscription. You can also take advantage of the 7-day free trial option at FITE to try out the service. Go to the FITE official website to watch all the action.
Subscriptions include Triller Fight Club's memorable fights such as Tyson vs. Jones Jr., Paul vs. Askren, Holyfield vs. Belfort, and Triad Combat. FITE also features content from wrestling promotions like AEW, Impact, and WWE, along with combat sports events such as BKFC, KSI vs. Paul 2, Canelo vs. GGG 1 & 2, PBC, Top Rank, Showtime Boxing, NWA, GCW, and ONE. Additionally, FITE showcases South American World Cup Qualifiers, MOTO FITE Klub, and hosts iconic music events like VERZUZ.
Hook and RVD vs. Alex Reynolds and John Silver
In the AEW dynamic duo of Hook and Rob Van Dam squared off against the formidable team of Alex Reynolds and John Silver. The anticipation was palpable as the bell rang, and the action got underway.
Hook and RVD, showing an incredible synergy despite their relatively new partnership, began to work together seamlessly. Their unique combination of technical prowess and high-flying acrobatics kept the audience on the edge of their seats. Hook's impressive grappling skills were complemented by RVD's signature high-impact moves, creating a perfect blend of styles.
On the other side of the ring, Alex Reynolds and John Silver, known for their incredible resilience and hard-hitting offense, fought valiantly. They were determined to prove that they could hang with their more experienced opponents. The chemistry between Reynolds and Silver was evident, as they utilized quick tags and double-team maneuvers to gain an advantage.
The match evolved into a back-and-forth affair, with each team showcasing their strengths and attempting to outsmart the other. The crowd was torn, with cheers and jeers echoing throughout the arena as both teams fought tooth and nail.
As the bout reached its climax, it was Hook and RVD who managed to gain the upper hand. RVD's "Five-Star Frog Splash" and Hook's "Red Rum" submission move left the audience in awe. The referee's hand slapped the mat three times, signaling the end of the contest, and victory belonged to Hook and RVD.
The post-match celebration was filled with admiration for both teams, as they had put on a thrilling display of athleticism and teamwork. These AEW Dynamite results were a testament to the talent and diversity of styles that can be found in the world of professional wrestling, leaving fans eagerly anticipating the next showdown for these incredible athletes.
The Hardy Party vs. The Hung Bucks (ROH 6-Man Tag Titles)
Despite not watching Turner Classic Movies, it was time for the next production by Timeless Tony Storm. She walked in AEW dynamite show, and it was one of those silent movies. Surprisingly, flipping Luther of all people was now her butler, and she's going to get a world title shot at Full Gear. You really have to watch these again; they're not to everyone's taste, but I feel like they were written for me. I love it so much because it's so entertaining in its absurdity. That's how I like to live my life.
Then it was Tony Khan's surprise time. I was disappointed because it wasn't Repo Man, but one day, Tony Schiavone invited Sting and Darby Allin to the ring. Sting announced his retirement, and it was an emotional moment. He thanked everyone and expressed mixed emotions. It's awesome that he gets to go out on his terms, but it's also sad not to see Sting in the ring anymore. He also thanked Tony Khan for making that call four years ago, which led to this incredible run.
Sting was then presented with a surprise gift, and to everyone's surprise, it was Ric Flair. This made me laugh because it seemed like Sting now had to take care of him like a pet. The context here is that Sting and Ric Flair had an incredible rivalry in WCW, and this was a nod to that history. As long as Sting is cool with it, it's all good.
After this heartwarming moment, the show got back to professional wrestling with the interruption of Luchasaurus, Nick Wayne, and Christian Cage.
ROH World AEW Dynamite Six-Man Championship Match!
"Hangman" Adam Page, & The Young Bucks—Matt and Nick Jackson vs. The Hardys—Jeff & Matt, & Brother Zay!
It was time for our party match next, so get your party hats on. It was the Young Bucks and Hangman Adam Page defending their ROH six-man belts against the Hardy Boys and Brother Z. My big takeaway from this fight is that we need to stop forgetting that Isaiah Cassidy is a very, very good pro wrestler. Matt and Jeff Hardy also looked fantastic, and you already know what the Jacksons and Hangman Adam Page can do. They were all just bipping and bopping around during the whole thing, with Matt Jackson obsessed with the Northern Light suplex. I respect his dedication to the cause.
All of it led to the big hot tag for the cowboy. I actually pondered to myself, "I wonder if one day we can do the hot tag, and he does it on a horse?" You know, he's a cowboy of the cows. I'm not sure what I'm talking about. He also hit the ultimate comeback move of 2023, the crossbody, before absolutely wrecking Z with a DDT. It got a one, two, three, even though he was able to dive around the place to prove his agility. Eventually, he got hit with the Buckshot and the BTE Trigger, and the Young Bucks and Hangman Adam Page got the one, two, three.
But their day was about to get very, very bad. We cut to the big screen, where it turned out that Swerve Strickland and Prince Nana had gone to Adam Page's humble abode. Hangman and Page decided to run to the back, which is what you would do. But, bro, I don't think you're going to get there in time. They're already there. They started ripping up pictures of his kids, while Nana ate some strawberries. That made me chuckle. They even went into Page's kids' bedroom, and Strickland left some merchandise on the crib. That may sound a little silly, but Strickland played this so intensely and so creepily. Once again, we just have to get on the horn and shout out the fact that Swerve Strickland is a flipping great pro wrestler, and he still has loads more to give.
Prince Nana then got a little worried and said, "Man, I think we should leave." So they did, but not only has this upped the feud, not only are they going to have some crazy stipulation match because you can feel it in the air, but you just need to watch AEW dynamite results, and you'll see what I'm talking about. Swerve absolutely needs to be the champion in 2024. The guy has something. Give it up!
Hikaru Shida vs. Ruby Soho (AEW Women's World Championship)
When Ruby Soho lost another title match, it's becoming a recurring theme. Maybe she needs to go crazy and become a 1920s Hollywood actress. It's worked before.
I laughed because Shida hit the ultimate comeback move of AEW dynamite 2023, the crossbody, almost instantly. Don't come into my house and tell me this isn't true. She also connected with the 10 punches in the corner, giving me those 1980s vibes.
Ruby then got mad and hit the "No Future" off the apron. That's when Shida went for another crossbody, the ultimate comeback move.
Things got even stranger with a spot reminiscent of Eddie Guerrero. Ruby Soho ripped off the pad, exposing Tina, the turnbuckle. The referee had to go and sort it out. Ruby got the spray can and threw it into Shida's arms so that when the ref turned around, Ruby was on the floor, claiming she got sprayed in the eyes. Even though the ref went to get rid of this, Ruby went to get the world championship and charged at Shida.
It would have been a DQ, but referee Edwards was right there when she just sprayed the belt and then got really sad about what she had done and totally forgot that Ruby Soho was her opponent. She turned her back, and that led to the "Destination Unknown." There's no way that could be a one, two, three, but it was. Ruby Soho learned that you shouldn't be a jerk in wrestling. She charged at Shida, Shida moved, she hit the exposed turnbuckle, and Shida hit the big knee for the one, two, three.
We quickly moved on to our next feud as everything went black and white at AEW Dynamite, and here came RJ City, Timeless Tony Storm, and Luther. I just love this act. I know I've talked about it, but I'm going to talk about it again. The fact that it goes black and white and everyone responds with "What the heck is happening?" is just goofy wrestling for life. I would absolutely give her the championship, probably forever because she is timeless.
So, the match was fine, and it gets an "up." That "up" also ties into the fact that Tony Storm made me laugh here. But even I thought that spot in the middle of the match was a little too much. However, I do respect that they were trying to do something new and different in a landscape with so much wrestling. I'll always be behind that. But I'll also be honest; it's got to get a "down."
Conclusion
To the end of AEW Dynamite results, and it was a fabulous show with a main event that you could have put on pay-per-view, and nobody would have minded it. I'm just so happy for all these guys, especially Orange Cassidy. When he got signed, there was that contingent like, 'This is the worst thing ever.' Well, actually, it's turned out to be the best. It's getting an overall up now.