Looking for the one you might find yourself trying and testing, investing your time in Women's Running Shoes. Continually being disappointed can get a little disheartening after a while. Well, that's why I am here to help. I'm going to guide you in finding your perfect pair of ON Women's Running Shoes.
Together, we will explore the unique features and benefits of different shoes, ensuring you make an informed decision. In this article, You'll get an overview of the top ON running shoes for women that we have thoroughly tested. But first, let's take a moment to explore the rich brand history of ON running shoes.
ON Running Brand History
ON Running, a Swiss brand founded in 2010, gained recognition for its innovative running shoes. The brand's founders, including elite athlete Olivia Bernhard, focused on improving vertical compression and horizontal force in their shoe designs. In 2010, they won the prestigious ISPO Award for their cushioning system, even before the shoe went into production. This early success led to rapid production scaling.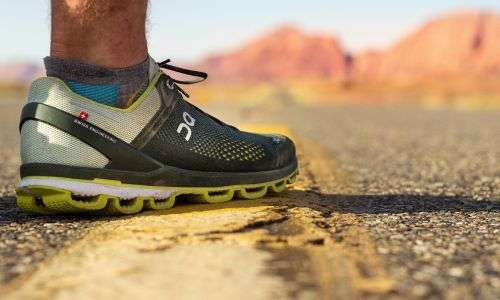 ON Women's Running Shoes: Global Recognition
Another significant milestone for ON Running was in 2016 when Swiss woman athlete Nikola Spirig won a gold medal at the Rio Olympics wearing ON shoes. This achievement brought international attention and boosted the brand's global presence. Since then, ON Running has experienced steady year-on-year growth in the women's running shoes market. They have strategically expanded into new markets while upholding a selective approach to ensure consumers recognize and value their distinct technology tailored specifically for women's running shoes.
The Roger Federer Partnership
In 2019, ON Running gained further recognition when Swiss tennis legend Roger Federer became a shareholder in the company. This partnership added to the brand's success and solidified its reputation. Today, ON Running offers an exciting range of women's running shoes and actively participates in various running events.
Our Top Picks For ON Women's running shoes
There are two main groups of ON Women shoes, categorically designed for running. The first group consists of Cloudflow, which prioritizes speed, responsiveness, and lightweight construction. Although it may not provide significant softness, it excels in delivering great speed and responsiveness for runners.
The second group includes the Cloud. The cloud offers a bit more springy feel. During testing, we found that the shoes have been much more performance-focused, prioritizing a plush ride and versatility for everyday running. Aside from its functionality, it also boasts a stylish design, suitable for work and daily use.
Selection of Cloudflow Sneakers for Women
Womens Cloudflow Textile Synthetic Trainers
Selection of Cloud Sneakers for Women
Women's Cloud Sneaker
Women's Cloudswift Sneakers
Women's Cloud X Sneakers
Women's Cloud 5 Sneakers
ON Women's Cloudflow Sneaker (Niche shoe)
ON has truly outdone itself with CloudFlow, its latest iteration of running shoes. For those who truly want to feel the ground beneath their feet, the ON Women's Cloud Sneaker is an exceptional choice. It possesses a touch of responsiveness and a tad more stiffness, which can make it appealing, especially for racing purposes.
One notable update in this version is the implementation of the Helion foam, which offers a slightly softer feel. Despite the added cushioning, the Cloud Flow remains a firm shoe, providing a unique ground-feel experience.
What activities are they good for?
They are great for tiny runs, walking on concrete, and moving in town, but not suitable for training in the gym.
Pros & Cons
While it leans slightly towards the faster end, we still find it suitable for easy runs. However, some runners who desire more protection may prefer a shoe with a super maximalist design.
ON Women's Cloud Sneaker (Best all round shoe)
If you need a single shoe to cover a variety of runs, ON Women's Cloud Sneaker is perfect. Its performance, coupled with its lightweight design and breathable upper, make it a top-tier option in the crowded running shoe market.
What activities are they good for?
Its versatility truly sets it apart from others. They are designed as smart-looking shoes that can be used for anything. If you appreciate the Cloud technology but desire a lighter and punchier option, this shoe would be a great choice.
Waterproof Variant
For winter, there is the Cloud Waterproof variant along with non-waterproof. It shares the same features as the Cloud but incorporates a waterproof exterior to keep your feet dry in wet weather. This shoe is slightly heavier but still ensures comfort, reliable for everyday wear.
Design & Features
ON has masterfully designed this shoe for women featuring two layers of mesh, with a honeycomb pattern at the base and a digital pattern on top, facilitating airflow throughout the shoe. The minimalistic construction prevents your foot from feeling drenched or overwhelmed by sweat.
Fit
Unlike some other maximalist running shoes, the ON Women's running Cloud shoe forgoes excessive material in the uppers, ensuring a secure and comfortable fit. There are no cumbersome foxing or stabilizing elements on the medial or lateral sides of the shoe. As a result, the shoe moves harmoniously with your foot, preventing any unwanted sliding during runs. This stability is especially beneficial for runners with the appropriate foot type.
ON Women's Runing Cloudswift Shoes
Cloudswift Sneaker is a gym goer, short running, and daily trainer shoe. In terms of daily running, It's lightweight allows girls to effortlessly pick up the pace, while still delivering a comfortable and protective ride. It strikes the perfect balance, providing ample cushioning without feeling excessively heavy. It's enjoyable to use across various paces. Although the price remains relatively high, as expected with ON shoes, you can't deny the appeal of this stylish footwear.
What activities are they good for?
It particularly excels when mixing up paces in a single run, ticking the essential versatility box for a potential daily trainer.
Performance & Support
The mechanical sidebands provide extra support, And the revolutionary CloudTech and Helion Foam provide Responsive comfort and durability while also dampening the heel strike. The forefoot Cloud Elements close at the center channel For a more directional push-off without energy loss, Optimizing natural rolling motion. The Speedboard system provides fantastic Energy return and an easy transition to higher-speed runs. It's made for urban runs, light and agile, but absorbs Heavy impact to protect runners from harsh surfaces.
ON Women's Running Cloud X Shoes
The On Cloud X Sneakers are compact, lightweight, agile, nimble, and neutral running shoes for ladies. It features balanced cushioning that offers both protection and a smooth roll through your stride, making the run feel effortless.
Although it may not surpass the ON Women's Cloud Sneaker, it certainly shows promise in that direction. The new cushioning technology performs exceptionally well, ensuring a fluid and comfortable foot strike that propels you forward effortlessly. It's an all-around great shoe for a satisfying running experience.
What activities are they good for?
It is adapted for long-running, lifestyle use and training purposes. making it a fast and versatile shoe capable of tackling most workouts.
ON Women's Running Cloud 5 Shoes
Cloud 5 Sneaker is a great performance shoe with a casual look. Equipped with Zero Gravity Foam, it offers the lightest and most responsive ride possible for women runners. Cloud 5 is super light, weighing under 200g. It's a cushioned shoe but also really flexible, allowing for easy flexing.
Moreover, It has advanced abrasion parts for grip and longevity. It has an explosive Speedboard in the midsole to turn a soft landing into a powerful takeoff.
What activities are they good for?
They are great cross-trainer shoes that can be used in the gym for everyday walks and work. Plenty of reflective details all around the shoe provide extra safety for nighttime runners.
ON Women Shoe Anatomy
All ON Women's Cloud Sneaker features a unique sole construction with small pods called "clouds." These clouds compress upon landing and firm up to propel you forward. The shoe also includes a flexible speed board, which allows for smooth transitions and a nice turnover during your stride. The channel and arrangement of the clouds ensure that each one responds individually to your stride, providing cushioning, support, and impact protection where needed. This intentional design adapts to your movements.
ON Women's Running Shoes Technology
When it comes to performance-enhancing technologies, ON Running leads the way in promoting a faster stride. Engineered specifically for females, ON shoes provide the perfect balance of comfort, hold, and stretch. Three notable features that stand out are the Helion super foam, the Cloud Speedboard, and the Flip Release System in Every ON shoe. These technologies, combined with thoughtful design elements, make ON running shoes a reliable choice for female athletes.
Helion Super Foam
Almost all the top models of ON women's running shoes incorporate the revolutionary Helion super foam. This cutting-edge foam material offers unrivaled responsiveness, making each stride a truly exhilarating experience. With its exceptional energy return properties, Helion super foam propels you forward, enabling you to achieve your running goals with ease.
Cloud Speedboard
Another impressive technology employed by ON Running is the Cloud Speedboard. This specially designed plastic plate, present in nearly every model, offers targeted stability and helps optimize landing and stride efficiency. In certain shoes, such as the Cloud Ace, the Speedboard spans the entire platform and is clearly visible on the outside. However, in other models, it remains discreetly positioned beneath the shoe's surface. In other models, the Speedboard resides beneath the surface, effectively aiding in landing mechanics and promoting a faster stride.
Flip Release System
Exclusively featured in the Cloud Ultra, ON Running introduces the innovative Flip Release System. This ingenious mechanism allows for personalized adjustments to the shoe's fit, according to individual preferences. By toggling between different settings, you can easily achieve a looser or tighter fit in the forefoot area, providing a level of customization rarely found in other running shoes.