43 Pakistani players were initially given NOCs by PCB to compete in the KFC Big Bash League 2022. The initial list of players was quickly rejected by the Pakistan Cricket Board. We might miss witnessing Pakistani stars in the ongoing Big Bash League 2022-23.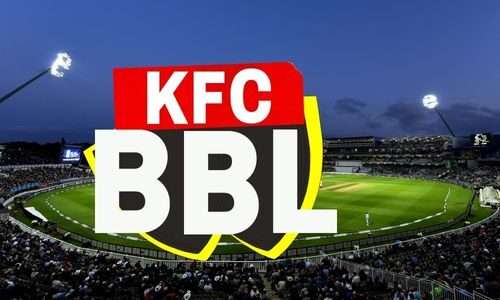 Reasons for NOC rejection
Pakistani cricketers have made a significant contribution to the growth and popularity of Twenty20 cricket. They participate in almost every cricket league around the world. But this time PCB not allowed their players due to the following reasons:
International commitments; Ahead of KFC Big Bash League 2022-23 Pakistani players have jam-packed international commitments. As, Australian BBL is set to coincide with Pakistan's series against England, New Zealand, and the West Indies. PCB chairman decides not to grant NOCs for central contracted players.
Domestic Season; 2 of Pakistan's major domestic cricket tournaments are scheduled during the ongoing Big Bash League. The PCB made the decision to guarantee that the most players were available for the national competitions.
Impact of Pakistani Cricketers on BBL
Pakistan has produced a number of world-class cricketers who have had a significant impact on the game of cricket. Particularly in the Twenty20 format. Pakistani cricketers are known for their aggressive and exciting style of play, and they have helped to popularize Twenty20 cricket around the world. Which is why they are a member of the top T20 competitions. Over the past several seasons, there have been more Pakistani players participating in the Big Bash League.
KFC Big Bash League 2022/23: BBL teams, fixtures, and how to watch for free
Pakistani Cricketers who were interested in KFC BBL
Some of the notable and star players like Babar Azam, Shaheen Afridi, and Mohammad Rizwan were supposed to be selected in the BBL draught as well. But they have opted not to participate in the competition owing to other commitments.
Likes of Babar Azam, Shadab is one of the 43 Pakistani players that have registered for the draught, according to ESPNcricinfo. Some of the Pakistani players who are eligible for selection include seasoned pacers Wahab Riaz and Mohammad Amir, former captains Sarfaraz Ahmed and Mohammad Hafeez, explosive batsmen Asif Ali and Azam Khan, and gifted young cricketers like Shahnawaz Dahani, Musa Khan, and Zeeshan Zameer.
List of Pakistani cricketers for KFC Big Bash League
Shadab Khan (Sydney Sixers), Ahmad Daniyal Latif (Melbourne Stars), and Syed Faridoun Mahmood are eligible for retention (Melbourne Stars)
Other contenders include Wahab Riaz, Asif Ali, Sarfaraz Ahmed, Muhammad Hafez, Muhammad Amir, Azam Khan, Musa Khan, Zeeshan Zameer Bilal Khan, Tayyab Abbas, Shahnawaz Dahani, Mohammad Haris, Dilbar Hussain, Zafar Gohar, Mohammad Imran, Jr., Salman Irshad, Usman Khalid, Usama Mir, Salman Mirza, Saad Naseem, Momin Qamar, Rumman Raees, Usman Qadir, Salman Fayyaz, Asif Afridi, Sohail Akhtar, Kamran Akmal, Umar Akmal, Faisal Akram, Ahmed Daniyal, Syed Faridoun, Sharjeel Khan, Junaid Khan, Maaz Khan, Shan Masood, Ali Majid, Hussain Talat, Imad Wasim, Muhammad Zahid, Mamoon ur Riaz, Usman Shinwari, Hussain Talat, and Muhammad Zeeshan.
These players have consistently performed well in T20 matches and have helped Pakistan win many important games in this format.
A brief history of KFC Big Bash League
The KFC Big Bash League is a cricket league that features players from Australia, England, India, New Zealand, and Pakistan. BBL is a professional Twenty20 cricket league in Australia that was established in 2011. The league has become increasingly popular in Australia and is now one of the biggest sporting events in the country. It is known for its fast-paced and exciting brand of cricket and has attracted a large following among fans and players alike. The league has also gained popularity internationally, with many international players taking part in the tournament. The success of the BBL has helped to boost the profile of cricket in Australia, and it continues to grow in popularity.
Interesting Information about BBL
BBL is known for its fast-paced and exciting brand of cricket and has attracted a large following around the world. One unique aspect of the KFC Big Bash League is that it features a number of rules and regulations that are different from traditional cricket leagues. For example, each team is allowed to have only two overseas players in their playing eleven. And each team must have at least two players from Australia's Under-23 squad.
Additionally, the BBL uses a "powerplay" system. Where the fielding team can only have two players outside of a 30-yard circle during the first six overs of the batting team's innings. These rules and regulations help to create a unique and exciting brand of cricket that is different from other leagues around the world. These innovations of BBL, such as the "Power Surge" and the "X-Factor" player, add an extra layer of excitement to the matches.
Format of BBL
The KFC Big Bash League is a cricket league that features players from Australia, England, India, New Zealand, and Pakistan. The format of the KFC Big Bash League is similar to other professional Twenty20 cricket leagues. Each team plays a total of eight matches in the regular season, with four of those matches played at home and four played away. The top four teams at the end of the regular season qualify for the knockout stage of the tournament. Which consists of two semi-finals and a final. The winner of the final is crowned the champion of the league. The league runs from December to February each year and features a total of 59 matches, including the semi-finals and the final. The winner of the BBL is crowned the champion of the league.
Eight teams representing eight different cities and states in Australia. This allows for a higher level of competition and ensures that the best players from each state are able to compete against each other. The teams are Adelaide Strikers, Brisbane Heat, Hobart Hurricanes, Melbourne Renegades, Melbourne Stars, Perth Scorchers, Sydney Sixers, and Sydney Thunder. The BBL also has two additional teams known as the "Sydney Thunder" and the "Melbourne Stars". These teams are made up of players from New South Wales and Victoria, respectively.