Finding the best recliners for neck pain that are ergonomically appropriate is a common question.
You probably spend a lot of time sitting at your computer, as do many people these days. If you're sitting in an unfavorable position that puts stress on your spine and muscles, it can lead to problems and pain, it can result in you being more susceptible to neck and back injuries. So, yes recliners with ergonomic design are handy options to ease neck pain.
Key Takeaway:
✪ The optimal approach to pinpointing the ideal recliner for neck pain is to try it out and spend some time sitting in it or to shop from trusted brands.
✪ You have to listen to your body; someone may say a chair is great ergonomically, but if it's uncomfortable for you when you sit in it, it might not be the right one for you.
Besides my personal suggestions, our critic team filtered out some crowd-favorite recliners for different individuals. Featuring the highest customer happiness on Amazon and the least neck pain complaints.
Is Sitting Upright the Real Cause of Neck Pain Epidemic?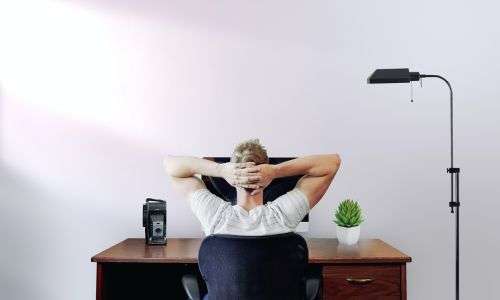 Sitting naturally adds stress to the spine, so an ergonomically designed chair can help alleviate that stress. Most of us, at some point in our lives, have experienced some form of back pain, as it is directly related to neck pain. The number of people experiencing neck pain is increasing at an exponential rate. So you might ask, what is causing all of this?
Well, there's good reason to believe that the chairs we use and how we sit are major contributing factors to this massive back health pandemic. If this is true, is there anything we can do right now to avoid degenerative neck and back pain?
JMPT Research Article:
"The study found that recliners are actually better for the muscles in your spine. This research is from an article in JM PT, which found that subjects seated with backrests and an inclination of 110 to 130 degrees, coupled with lumbar support, had the lowest pressure on their spines and the lowest electromyography recordings from spinal muscles. In simple terms, chairs with more recline are associated with reduced muscle activity and less nerve stress. This means you will experience less fatigue and tiredness"
Here's the good news: scroll down as our selected ergonomic recliners have the best features that might unlock the solution to better neck health. Contrary to common belief, sitting at a 90-degree angle, meaning that your legs and torso form a right angle, is not nearly as optimal for your spinal bone as we once thought. Decades of research suggest that a reclined position is much better.
3 Popular Comfortable Recliners for Neck Pain
Best for Home & Office (Our Personal Favorite)
CHITA Power Recliner Swivel Glider
Most Aesthetic and Compact
Signature Design by Ashley Yandel Faux Leather Electric Power Lift Recliner
Best affordable Option:
Homall Massage Recliner Chair
Pro Tip:
Handheld body massager machines and popular massage guns like Theragun Prime and Theragun Pro can make excellent alternatives for relieving neck pain.
1. CHITA Power Recliner Swivel Glider (Best Overall)
Sitting naturally adds stress to the spine, so an ergonomically designed chair can help alleviate that stress. One highly recommended chair to check out is a CHITA Power Recliner Swivel Glider. It's approved by many chiropractors and promotes excellent posture, offering relief for your neck & back.
Product Description
Cheetah, a venerable name in the world of recliners, has been crafting exceptional seating solutions since its inception in 2002. CHITA's power recliner swivel glider is built to last, maintaining its shape from frame to interior components. They use high-quality steel or wood bases and a complex set of springs to create the most comfortable seating experience possible. Three layers of foam over the steel base ensure your body conforms to the recliner, providing the comfort and support you need.
Special Features
I must tell you that some of the smartest engineers in the world must work for Cheetah because the Swivel Glider is so easy to assemble. There are no tools involved; all you do is snap it into place and connect one wire so all the motors work together. Boom, you are done—no tools, no bolts, nothing.
It has a swivel, allowing it to turn around for conversations without having to turn your head. It has a USB charging port too, so you can charge your phone or your iPad on this thing—phenomenal. there's also a headrest, which has a motor behind it as well. So you can adjust that if you want to watch TV and kick your feet up; you can actually elevate your head so you're in the perfect position every time.
Verdict
When dealing with the discomfort of neck pain we all need to relax and unwind. A comfy, perfect recliner gives us the chance. This is the most comfortable and one of the best recliners for neck pain you could ever sit in. The fabric is fabulous, super soft, and it looks like leather, but it's easy to maintain microfiber.
The subtle color matches nearly every decor, whether it's home or office. The bustle back cushion allows you to relax for ages, and the leather soft upholstery guarantees coziness.
Remember when you were a child and you'd slouch in the back of the class? Sometimes our body tells us that a position that feels more comfortable is actually better for our spines, no matter what the teacher tells us. One important point to make is that if you're going to use incline, make sure you have proper lumbar support. It's imperative when using an incline.
2. Signature Design by Ashley Faux Leather Electric Power Lift Recliner (Most Aesthetic)
Our second recommendation hails from Signature Design by Ashley, a brand that is often considered making one of the best recliners for neck pain and whole-body relaxation. This classic Electric Power Lift Recliner is a stylish addition to any home. Made with durable wooden materials, it's covered in easy-to-maintain fabric. It's ideal for those who suffer from neck pain or need to encourage blood circulation. One of the best things about this recliner is that it's shrink-resistant, which means it lasts longer.
Special Features
Every seat of this recliner has small cranks on the sides, and the cranks run on the tube, which is an integral part of the chair, creating the arms and becoming part of the frame. You can adjust them to your preferred tension while sitting in the chair, and when you recline, it will hold itself in place based on your body weight. This allows you to take a nap in your chair without worrying that it will snap back to an upright position when your body relaxes. When you're ready to sit up again, it's an easy transition. The "Plus System" is designed to provide lumbar support while you're sitting, and as you recline, it fades away, providing a cradle that supports your back, neck, and head, resulting in a stress-free reclining experience. It changes as you recline.
Verdict
Ashley Furniture has been around since 1945. They use standards that are very similar, if not higher than the standards we have here in the United States. They source leathers from tanneries in Brazil and Italy, and they're all top-grain leathers. Multiple doctors have recommended signature-design recliners for neck pain or back issues to patients, saying they would be very beneficial for them.
3. Homall Massage Recliner Chair (Affordable Option)
Homall Massage Recliner is the chair you want when you want back luxury and neck rest, but your credit score screams, "Let's be sensible, shall we?" Homall Massage Recliner Chair for neck relief is a recommendation for the best value.
So affordable you'll be convinced they forgot a zero; competitive price for a chair that competes only with your need for comfort; smooth pushback mechanism – the chair goes back smoother than your lame pickup lines; also durable, waterproof, and comes in colors that even a chameleon would envy.
Key Features
The key features include Massage Magic. Forget the Swedish massage; this chair comes with its own little motors humming away in the waist section. The only thing Swedish here will be your exclamations of relief. It has a reclined angle from 90 to 180 degrees, ideal for naps, and Netflix, and is best for neck relief. The faux leather is fabulous PU leather, perfect for when your bowl of chili decides it's too good for the bowl and ends up on the chair. It offers color choices from beige to black, red to Orban Brown, and everything in between. It's like a candy store for adults, minus the cavities. Also, it's Foot Loose, designed with a metal frame that lets your feet feel like they're walking on air, or at least kicking back in it.
Verdict
It's a leather ergonomic chair with 90 to 180-degree. It restores energy and relieves pain, with added heat and massage options to help with aches. It's suitable for homes and offices, with a 150-degree recline. What more could you ask for in a recliner?
The downside is that they're not for everyone. They are not traditional; they have a very contemporary design, which may not fit everyone's home decor. However, people desire the comfort that a Homaal chair offers. They know that these chairs are comfortable, long-lasting, and suitable for daily use, and they know they will love them.
Neck Recliners: Buying Guide
Neck pain and how to choose the right chair so you can get some relief and feel comfortable. We're going to go over some of the important things to look for when you're shopping for a chair and what options can help you in your struggle with back pain.
Quality
One thing you don't want to skimp on is quality. If you have a chair at home that initially felt terrific but, over a short period of time, isn't feeling so great, chances are the quality wasn't there. So, it's super important to prioritize quality when shopping for a chair. Look for a product with great quality, good foam, a well-made frame, and a seat that suits you and will last. This chair should be an investment for you; after all, it's for your back.
Fit & Comfort
Depending on the seat height of the piece and your height, certain frames might work better for you. Consider how you'll get in and out of the chair, whether you have enough room to swivel it, and if the arm heights are at the right level. Your back pain might affect your ability to use your body weight to recline, so having an accessible button could be necessary. Consider factors like seat height, reclining mechanism, swivel, and rocking to find the right fit for you.
How to Manually Recline an Electric Recliner? 7 DIY Steps
Reclining an electric power recliner manually isn't typically an option. However, before considering the expense of replacing the motor, you can try some troubleshooting steps to diagnose and potentially resolve the issue.
Locate the Release Mechanism:

Most electric recliners have a manual release mechanism typically located on the underside of the chair or sofa near the base. Look for a lever or knob.

Disconnect Power:

Ensure that the recliner is unplugged or disconnected from the power source to avoid any electrical accidents.

Engage the Release Lever:

Depending on the design, you may need to pull, push, or turn the release lever or knob to disengage the electric reclining mechanism.

Apply Steady Pressure:

While holding the release lever, gently push back on the chair or sofa's backrest or footrest, depending on the type of recliner you have. Apply steady pressure until you reach your desired recline position.

Secure the Release Mechanism:

Once you've achieved the desired recline angle, release the lever or knob to lock the chair or sofa in place. Ensure it securely engages to prevent accidental movement.

Test the Recline:

Carefully test the recline position to ensure it feels comfortable and secure.

Reconnect Power (Optional):

If you wish to return to the electric operation of the recliner, plug it back into the power source and use the remote or buttons to adjust the recline position as needed.
If you encounter any difficulties or are unsure, it's advisable to contact the manufacturer's customer support or a professional technician for assistance.
Conclusion
I hope you've learned something new in this article that you can begin implementing in your daily life right away. It's vital for us to get our posture right if we want to maintain a healthy neck and spine overall, and sitting the right way may be the most important place to start. Try to sit at an angle as close as possible to standing—it's the most biomechanically ideal position for our bodies and will improve or prevent neck pain.
Recliners can certainly be an easy solution for this, and above all, you can invest confidently as we have independently selected the best recliners for neck pain specifically.