Why is it so challenging to find a good pickleball shoe for women with wide feet?
Most women's pickleball shoes in wide feet options lack fullness in the toe box and the necessary wiggle room which are crucial factors. Also, they often lack a sturdy midsection, while professional players prefer bilateral movement over mere flexibility.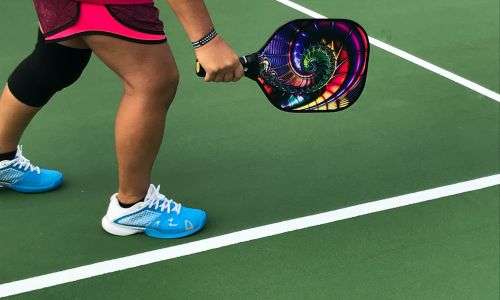 To address these issues, our feature shoes in the list have a double-reinforced midsection, a four-ply counter section, and the necessary flexibility. They also offer a variety of widths and stylish designs, along with a grip bottom designed specifically for pickleball.
Quick Tip: If you're on the hunt for some regular best pickleball shoes for women, be sure to check out our list!
Must-Read Tips Before Selecting the Best Pickleball Shoes for Women with Wide Feet
Selecting the right pickleball shoes for women with wide feet involves paying special attention to certain aspects. we want to encourage you to wear the right shoes for your game.
Here are some considerations to keep in mind:
Width Options: Look for brands and models that offer wide-width options. These shoes are specifically designed to accommodate wider feet comfortably. Check the product details or ask a store associate for shoes available in wider widths.
Comfortable Fit: Prioritize a shoe that provides a snug yet comfortable fit. Your toes should have enough room to move without feeling cramped. Ensure the shoe doesn't pinch or squeeze your feet, especially in the width.
Arch and Heel Support: Wide feet still require proper arch and heel support. Opt for shoes that offer adequate cushioning and support in these areas. Well-padded insoles can help distribute weight evenly.
Flexible Materials: Choose shoes made from flexible materials that can adapt to the shape of your feet. Soft, breathable materials can prevent discomfort caused by friction.
Stability: Look for shoes with a stable sole and good lateral support. This will help prevent rolling or twisting of the feet during quick movements on the pickleball court.
Tread Pattern: Ensure the shoe has a tread pattern suitable for pickleball movements. It should provide reliable traction on both indoor and outdoor courts. The outsole should be durable enough to withstand regular play. Make sure you can perform quick lateral movements and move forward and backpedal without your shoe catching on the court surface.
Read Reviews: Research online reviews and seek recommendations from other pickleball players with wide feet. Their experiences can guide you toward brands and models that have proven comfortable for similar foot types.
On that note, we did all the leg work for you and found some best women's pickleball shoes considering the wide feet.
K Swiss Women's Supreme Hypercourt Shoes (Best for Competition)
The best pickleball shoes for the competition are the K Swiss Women's Supreme Hypercourt Tennis Wide Feet Shoes. Hypercourt shoes are highly underrated, considering how well they look and feel on the court. At the top of this lineup is the Hypercourt Supreme, a performance pair trusted by professional players like Catherine Parento and Tyson McGuffin. The shoe stands out with its sharp catchy appearance and a silhouette that departs from the usual chunky and overly cushioned pickleball shoe design.

What sets the hypercourt supreme apart is its strong traction, thanks to the Goodyear tread, which improves turning and pivoting. Additionally, it provides excellent arch support with Arch Fit technology, so you play comfortably for extended periods.
A quick tip: You can rock table tennis shoes for pickleball – they're great for side-to-side moves! 🏓👟
K-Swiss Women's Express Light Pickleball Wide Feet Shoe (Best for Breathable)
For a breathable option, the K-Swiss Women's Express Light stands out. This underrated pickleball shoe is ultra-lightweight and designed for hot summer play. It offers a variety of color options, with the gray and white combination being a favorite.
They offer features like airy mesh for temperature control, a cushioned EVA foam midsole for comfort, and an ADIWEAR outsole with excellent traction for quick movements on the court. Moreover, these shoes are made with eco-friendly materials, with the upper material containing 50% recycled content. While they may not be the most supportive on the list, express light prioritizes breathability and comfort, making them a great pick for warm weather.

Pro Tip: Women can opt for men's pickleball shoes if they feel they have extra flat wide feet
ASICS Women's Gel-Resolution 8 Tennis Wide Shoes (Best Balanced)
For a well-balanced pickleball shoe, consider the ASICS Women's Gel-Resolution 8. It's comfortable and gives a great grounding feel. Asics' latest dedicated pickleball shoe offers a mesh design with a tough synthetic overlay, This abrasion-resistant material keeps the shoe lightweight while offering durability.

Notable features include a polyurethane film covering the front of the foot for abrasion resistance and trustic technology in the midsole, enhancing stability and lateral support. While it may not be the fastest shoe, the Gel 8 provides a great balance between weight and durability, suitable for extended play.
Insightful: Shoes designed with more leather and less mesh can reduce breathability but offer more stability.
Fila Women's Axilus 2 Energized Wide Feet Sneaker (Best Extra Support)
For those seeking extra support, the Fila Women's Axilus 2 Energized is a top pick. Fila, is known for creating game-ready models. This shoe features a 180-degree plantar support chassis and a dura-wrap cover to prevent toe dragging. The support chassis keeps your feet secure and stable, even during intense play.

The dura wrap cover offers protection against scuffing and abrasion, ensuring longevity. While the Axilus 2 Energized provides excellent support, they tend to run snugly, so consider going up half a size for a comfortable fit.
Injury Advise: Do not wear sandals, and, do not use running shoes on the pickleball court. They have a tendency to grip the court at the worst time of play, and neither sandals nor running shoes offer medial or lateral support for the foot and the ankle.
Adidas Women's Gamecourt 2 Tennis Shoe (Best Extra Security)
For extra security on the court, the Adidas Women's Gamecourt 2 is an excellent choice. This shoe comes with strong Michelin outsoles, ortho-lite molded insoles, and an attached power belt for lateral support.
The gamecourt 2 offers a combination of durability and support, making it suitable for competitive play. Despite their heavy weight, these shoes provide stability and support for players who are either running after lobs, striving to execute perfect overhead shots, or pivot-stepping for great dink angles.
It has a slightly wider toe box than other shoes and offers comfort in the heel.