Women can head to the pickleball court armed with the incorrect paddle, the wrong sunglasses, or the wrong water bottle, but there's one essential piece of equipment you should never overlook – your shoes. Without the proper court shoe, you can put yourself in danger and jeopardize your ability to play in the future. That's not what we want in pickleball.
That's why we're here to guide you through the best pickleball shoes available for women, ensuring you can fully immerse yourself in the game while keeping your feet safe and supported.
What are the best shoes for pickleball?
To define the best shoes for pickleball, look out for these five things that the best pickleball shoes should possess.
The shoe must offer protection for the heel, arch, and forefoot from pickleball's unnatural stress.
Find comfortable footwears that fit the shape of your foot, providing toe grip and arch support for the heel, ankle, and forefoot.
Select a shoe with a rubber sole and tread pattern suitable for pickleball movements, allowing quick lateral movements and smooth forward and backward motion without catching on the court surface.
Consider the materials used in the shoe's design. Sneakers with more leather and less mesh provide stability, while strategically placed leather in mesh designs enhances structural stability based on your activity level and body type.
Taking into account the above factors, we are going to walk you through the 5 best shoes for women to wear on the pickleball court.
Our Picks: Best Pickleball Shoes for Women
Best Lightweight: Women's Gel-RENMA Pickleball Shoes
Best Breathable: Women's Express Light Pickleball Shoe
Best Budget: Women's, Influence Training Shoe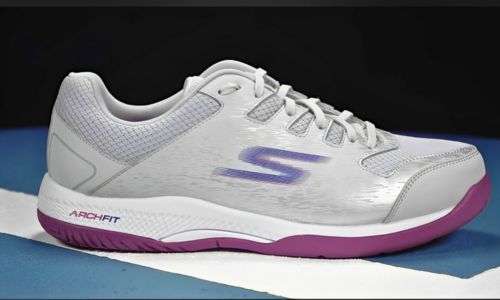 Most Comfortable: Skechers Women's Viper Court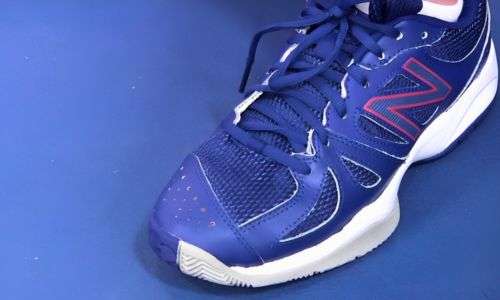 Best For wide feet: Women's 696 V4 Hard Court Tennis Shoe
Best Lightweight
ASICS has designed a shoe that allows you to enjoy hours of playing pickleball comfortably and stylishly. The lightweight synthetic and leather upper of this shoe provides durability and a sharp look.
Women's Gel-RENMA Pickleball Shoes (Asics)
The Gel-RENMA pair of pickleball shoes by Asics is an excellent shoe for women players. It is also used in squash and other indoor court sports. It was first released back in 2011. 
The upper material of this Women's Gel-RENMA court shoes is quite durable while the design has an excellent grip on the sole. The shoes are made from synthetic leather with the soles made from rubber. The shoes are available in four different colors; Dark gray, black, light blue, and medium blue. Most women prefer the black color since it has an elegant look and offers a strong visual effect.  It also uses the ASICS' TRUSTIC technology that helps in ensuring the feet are always stable. 
Pros
They are available in different colors; hence one can choose a color that suits her best.
The grip and style of the soles have made this shoe an excellent option for playing indoor pickleball.
The ability to loosen the laces is of great essence due to the narrowness of the toe box.
These shoes are always true to the size in length
Cons
The toe box may be tight for some
Best Breathable Pickleball Shoes
K-Swiss has introduced the Express Light, a special shoe specifically designed for pickleball. This shoe offers comfort, lightweight construction, and breathability. Its upper consists of lightweight mesh with seamless construction for added comfort. The shoe includes a heel grip liner to prevent slippage.
Women's Express Light Pickleball Shoe ( K-Swiss)
The Women's Express Light Pickleball Shoe by K-Swiss is among the first-ever shoes in the market to be designed for female pickleball players.
These shoes are lightweight, comfortable, and breathable ensuring female pickleball players are able to soar to new heights when on the court. It also offers lots of versatility that any female player will love making it the perfect shoe for both outdoor and indoor court use. This feature ensures regardless of where you will be playing, you will have absolute confidence that the shoes will be capable of supporting you throughout the practice sessions and games.
These Women's Express Light Pickleball footwear by K-Swiss is also compatible with both hard and clay courts meaning they are capable of supporting you whenever you are playing.  These special shoes for pickleball come with a complete K-Swiss own logo meaning you will also be making a fashion statement while at the same time ensuring your ankles and feet have optimum arch support. 
Pros
They have ergonomic support ensuring comfort when using them.
You can be sure of great performance as they enhance the users' performance.
They are super lightweight and comfortable hence, you can use them for longer periods.
They are suitable for both outdoor and indoor courts.
Cons
Requires great care to prolong its longevity
Best Budget Pickleball Shoes
For budget-friendly pickleball shoes that are also comfortable, we recommend this durable pair of pickleball shoes from Ryka. While they may not be the most budget-friendly option available, we believe these sneakers offer a well-rounded package of features that cater to the needs of most pickleball players.
Women's, Influence Training Shoe (Ryka)
These shoes are made up of a traditional lace-up design and have a rubber sole and a synthetic outsole. It comes with a well-padded color and tongue that helps in ensuring great comfort levels when playing pickleball. When you turn them over, its sole has pivot points that are well designed to help you move around comfortably and swivel about on them.

The upper mesh is made of highly breathable material that ensures the feet are always cool and dry.
Pros
It comes with a well-padded tongue to ensure great support and comfort levels
It has a precise return insole that bounces well to ensure great support
These shoes had different layers of direct fuse and flex foil.
They are available in different colors and sizes to suit different women.
There should be little to no break-in period.
Cons
Not available in different designs
Most Comfortable Pickleball Shoes (Best Overall)
Skechers is known for making comfortable shoes, and that comfort definitely carries over to this Viper Court model.
Skechers Women's Viper Court (by Skechers)
The Skechers Women's Viper Court Skechers is among the newest pair of pickleball shoes in the market. These shoes are made up of a synthetic mesh on the upper part that helps in pulling sweat off the socks. The upper mesh also helps ensure your feet breathe well preventing you from being distracted by discomfort and hot spots.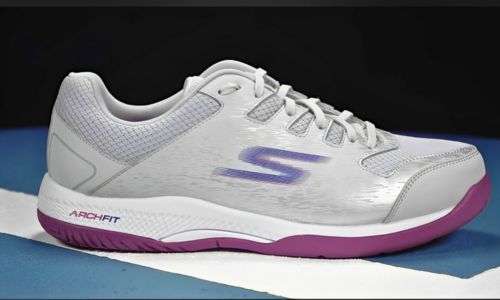 The reinforced areas around the mid-foot help in complimenting its breathability levels and ensures great stability enabling players to change direction confidently and quickly when on the court.
This shoe comes with a Skechers patented Arch Fit insole that helps in keeping the feet supported and comfortable. There is a well-cushioned and responsive ULTRA FLIGHT midsole that helps boost the support to the feet and helps in dampening shock to reduce fatigue.
Pros
Comes with a synthetic upper mesh that helps in pulling sweat off the socks
The Skechers patented Arch Fit insole ensures the feet are always comfortable and well supported.
It comes with reinforced areas around the mid-foot that helps in improving breathability levels.
Its ULTRA FLIGHT midsole is responsive and well cushioned to ensure support to the feet.
Cons
It is made up of a denser foam compound which makes it have a heavy bottom.
There is limited availability of bright colors
Pickleball Shoes For Wide Feet
The shoe to wear if you have a wider foot is the V4 Hard Court, available for both men and women. This is the best-selling shoe in the market and comes in a 2E width option. It provides ample room, cushioning, and support. If you feel it's a bit loose, you can secure it by threading the shoelace through the back grommet.
Women's 696 V4 Hard Court Tennis Shoe (By New Balance)
The outsole of this shoe is made of rubber making it suitable for hard court surfaces as the rubber offers great traction. This ensures the player remains stable and balanced whenever they are moving around on the court. Its non-marking full-length endurance outsole helps in making the shoes more durable ensuring it is capable of withstanding regular wear and tear.

The shoes have perforations at the forefoot which ensures there is ample breathability. This helps in keeping the feet dry and cool throughout the games. Its REVlite midsole offers great cushioning thereby reducing the impact on joints and feet during movements on the court. Its herringbone-patterned outsole is of great importance during lateral movements as it enables one to make abrupt changes in direction and sharp turns with ease. The lightweight synthetic and upper mesh helps in making the shoes more comfortable for its users.
For those looking for comfort extra room, and support, New Balance Hard Court is a great choice. It provides a spacious toe box and a supportive design.
Pros
It comes with a wide toe box that makes it capable of accommodating different foot sizes
It has excellent breathability ensuring the feet are always cool and dry
The midsole is made of REVlite which ensures great comfort levels
The outsole is made of rubber making it suitable for both outdoor and indoor play
Cons
Buyers Guide: Important Factors to Consider When Buying Pickleball Shoes for Women
Before stepping back on the court, we encourage you to wear the right shoes for your game. Here are important tips to choose the right court shoe:
Cushion Level
Just like in any other racquet sport, pickleball sport requires a high level of athleticism. Players will always need to have a fast response time, fast foot movement, and better court coverage. Going for pickleball shoes for women with better cushion ensures there is better shock absorption, helps in reducing fatigue on the feet, and ensure you are capable of practicing longer using the right intensity.
Breathability
Pickleball shoes having better sweat absorption will help ensure the feet are always dry and cool. These ensure there is a reduction in foot injuries and allergies. Sports shoes with high breathability levels are more comfortable and players and wear them for longer periods without experiencing discomfort in their feet. 
Durability
No one will want to go back shopping for new Pickleball shoes for women a few weeks after spending their hard-earned cash on one. That explains why you need to consider the durability levels of sneakers whenever you are shopping for one.  The more durable pickleball shoes are known to cost more but on a long-term basis, they are cost-efficient as they will last long and serve you better. 
Traction Levels
Traction is an important factor that you need to keep in mind whenever you are in the market for the best pickleball shoes for women.  Since the pickleball game involves fast lateral movements, having shoes with excellent grip, more traction and great lateral support will help improve grip which will in turn enhance performance.  Ensure you go for sports shoes featuring a non-marking outsole with a pattern designed for outdoor or indoor courts. 
Flexibility
Purchasing pickleball shoes for women that are flexible will offer you a great chance of changing direction, varying speed, and sliding with efficiency. It is advisable that you settle for court shoes that offer up to 90 degrees of flexibility.  Pickleball boots with great flexibility will help reduce the chances of injury. 
Shock Absorption
When in the market for the best pickleball shoes for women, go for the ones with high-quality outsoles and insoles.  Ensure the insoles and outsoles have cushioning materials like pads and gels. The cushioning materials help in reducing stress on muscles and joints.  Athletic shoes with great shock absorption levels will help make your on-court time more comfortable. 
Budget
When shopping for the best pickleball shoes for women, it is important that you know your budget limits. The pickleball shoes for women price varies depending on the type and quality of material used, brand, and features. Although it is always tempting to go for cheaper options, it is advisable that you invest in high-quality pickleball footwear. Quality sneakers will enhance your performance on the court and last longer. 
You need to consider the intensity and frequency of playing to help you strike a balance between quality and budget. Keep in mind, investing in high quality and the right type of pickleball shoes for women will help prevent injuries and offer long-term durability and comfort.
Frequently Asked Questions
In this section, we will be taking you through some of the most frequently asked questions about pickleball shoes for women.
What Is A Pickleball?
Pickleball is an addicting game that looks strange the first time you see it being played. Its net and court are scaled-down tennis court versions. The game was founded on badminton when two players were experimenting with different paddles and balls as they were bored with badminton. Compared to tennis, pickleball is made from polyester with the paddles made from wood.
Its rules are quite simple, you can play the game in either doubles or singles format with the same court size being used for both. All the serves are performed underhand and can never land in the no-valley court area. There are no lets in the serve as it is in the tennis and the ball has to bounce once before it is hit. Groundstrokes are only used within the no-valley zone with points being earned only during the serving.
What is the difference between pickleball shoes and tennis shoes?
There is no major difference between pickleball and tennis shoes. The two are similar in overall design and shape and they can always be used interchangeably. However, it is advisable that you go for pickleball shoes when playing pickleball indoors. This is because pickleball sneakers have more traction and are very stable when compared to tennis shoes. 
Is it advisable for one to use regular sneakers when playing pickleball?
Regular sneakers should not be used for playing pickleball games for hours of play. They will not offer the required stability, support, and structure. You have to invest in pickleball shoes that offer more stability, arch support, and structure for better performance and protection against injuries. 
What is the difference between outdoor and indoor pickleball shoes?
The outdoor shoes have a wide and stiff structure, ensuring great stability while on the outdoor court. The indoor shoes are made of rubber sole that sticks on the indoor court and offers a soft grip. 
What is the right way for pickleball shoes to fit?
The pickleball shoes should never be too loose or too tight. They should always leave some space between the shoes and the toes to ensure free movement of the toes.
Conclusion
Getting the right pickleball shoes for women can be a challenging task but it is worthwhile. Having the right footwear will ensure your feet are always comfortable whenever you are out on the court. It will also ensure you have a great playing experience and helps in protecting you against injuries. 
Before you settle on any pickleball shoes for women, ensure you read through the buyer's guide section. The buyer's guide section will help familiarize yourself with important factors you should consider when in the market for the best pickleball shoes for women. Or you Can visit the Home page for more insights!