Welcome to our guide on the top 5 cricket academy in Ahmedabad. Ahmedabad, the largest city in Gujarat, is known for its rich history and culture. It is also home to some of the best cricket academies in the state, providing top-notch coaching to young cricketers. In this article, we will take a look at the best cricket academies in Ahmedabad, including their fees, facilities, and the type of coaching they provide.
We will also take a look at the best women's cricket academy in Ahmedabad, and also, cricket academy in Ahmedabad fees and joining procedure. So, if you are looking for the best cricket coaching in Ahmedabad with fees, then this guide is perfect for you.
Royal Cricket Academy
The Royal Cricket Academy, located in Ahmedabad, is one of the best cricket academies in the city. Academy has three branches in the city. 1. Ghodhasar 2. Corporate road (including a turf ground), and 3. Vastral. With its three branches academy has easy access in Ahmedabad for aspirant cricketers.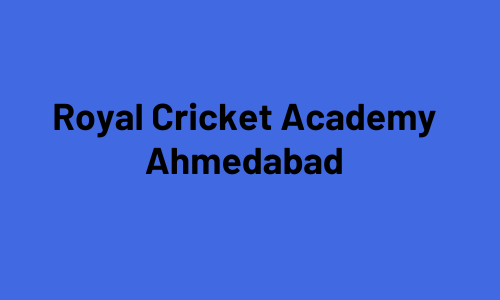 Cricket academy in Ahmedabad offers training for players of all ages, starting at 8 years old. The coaching program includes weekly practice matches, giving players the opportunity to apply their skills in a competitive setting. Additionally, the center invites international and Ranji Trophy players to provide special coaching sessions for students. So players get a chance to learn from some of the best players in the country and gain valuable insights into the game.
Royal cricket academy also has hostel facilities available for out-of-town players. To get admission students can visit the center or can contact the directly.
Royal Cricket academy in Ahmedabad Fees
| Fees | Amount |
| --- | --- |
| Monthly fee | INR 3,000 |
| Admission fee | INR 5,000 (one-time) |
| Hostel fee | NA |
Addresses: 1. Corporate Rd, Prahlad Nagar, Ahmedabad, Gujarat 380015, India.
2. Mirchi cricket ground, near pushpak bungalows, Ghodasar Canal Rd, Isanpur, Ahmedabad, Gujarat 380043, India.
MS Dhoni Cricket Academy Ahmedabad
The MS Dhoni Cricket Academy in Ahmedabad is a part of a network of cricket academies associated with the legendary Indian cricketer, MS Dhoni. Due to his presence, the academy is considered one of the best coaching centers in Ahmedabad. With the range of training program academy offer training for both boys and girls.
Fees of Dhoni cricket academy
3000 to 5000 INR
Address: Gujarat University Convention and Exhibition Centre, 132 Feet Ring Rd, near Helmet Circle, Memnagar, Ahmedabad, Gujarat 380051, India
Related article, Cricket Academy in Patna, Bihar, with fees and facilities
Future Sports Academy
Future Sports Academy is a premier sports academy located in South Bopal, Ahmedabad, Gujarat. The academy offers a wide range of sports-related activities, including football, basketball, and cricket. As the leading sports hub in Ahmedabad, Future Sports Academy provides top-notch training and facilities for athletes of all ages and skill levels.
Fees
4k to 5k
Address: SOBO Center Bopal, Road, opposite Aarohi Crest, Aaryan Gloria, South Bopal, Bopal, Ahmedabad, Gujarat 380058, India
GRP SPORTS ACADEMY
GRP Sports Academy in Ahmedabad is a premier cricket academy that provides training to young sports enthusiasts at the grass root level. The GRP Sports Academy also offers training in a variety of other sports, making it a true multi-sport academy. The academy also provides fitness training for kids and adults, as well as adventure sports activities. With a goal of providing a holistic approach to sports and fitness, GRP Sports Academy is one of the best cricket academies in Ahmedabad.
Fees
3500 to 4000 INR per month
Address: Gate No. 3 Inside MADHAV FARM, opp. HONEST RESTAURANT, Vastral, Ahmedabad, Gujarat 382418, India
You may like, 5 Best Cricket Academy in Mumbai with fees and hostel facilities
Universal Cricket Academy
The Universal Cricket Academy in Ahmedabad is the best place to learn and improve your cricket game. The academy offers both day and night matches and practices, making it convenient for players of all schedules. The coaches at the academy are extremely helpful and dedicated to helping each player reach their full potential.
Moreover, Universal cricket academy offers to coach female cricketers in Ahmedabad.
Fees
4000 INR per month
Address: New Rander Rd, Sultaniya, Rander, Surat, Gujarat 395005, India
Visit Cricfer's Home page for more details about the best cricket academies in India.