Looking for the right set of irons can be a daunting task for golfers of all skill levels. However, with the Mizuno JPX 923 series, players can find a range of options to cater to their individual needs. Mizuno has created a range of iron models that are designed to meet the needs of every player, from tour professionals to weekend warriors.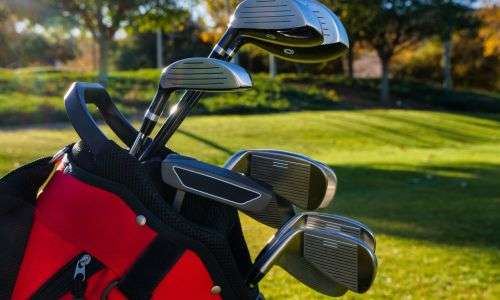 In this buying guide, we will explore the Mizuno JPX 923 series in detail and help you choose the right set of irons for your game.
Mizuno JPX 923 Irons Overview
Mizuno's JPX 923 lineup was recently launched, and it's already making waves in the golfing world. With five new models in the lineup, this tech-heavy iron is designed to benefit golfers of every skill level. Each club is specifically designed to excel at its intended purpose, with advanced materials and increased ball speed.
The V-Chassis delivers a satisfying vibration pattern across the club face, and the 4335 Nickel Chromoly is 35% stronger than the original.
Mizuno's custom fitting program offers 50 shafts to further personalize these irons. With the Shaft Optimizer 3D, golfers can experience custom performance like never before.
Mizuno JPX 923 Irons: Who Should Invest?
The Mizuno JPX 923 irons are engineered for custom performance. They feature five unique iron models created from three specific metals, based on swing DNA data from over 350,000 real golfers. These irons are suitable for any golfer who prioritizes accuracy and tactile sensation, especially those with a low handicap or higher.
Mizuno JPX 923 Hot Metal Review
Hot Metal JPX 923 is the most popular iron in the JPX lineup. It's packed with technology, including the new Nickel Chromoly material. This material is now in its third generation and helps increase ball speed off the clubface.
The new Nickel Chromoly material has so much additional ball speed their engineers switched their focus to feeling and stopping power.
Additional Features
Seamless cup face construction for a deep center of gravity, facilitating a high launch and controllable landing angle.
18% wider extension of the thinnest part of the sole, creating a wider high-energy area.
Non-reflective, chrome-plated finish to reduce bright light glare.
Forgiving Speed Cavity Design
The JPX Hot Metal irons are built with a forgiving speed cavity that helps you get the ball airborne quickly and easily. This design ensures that you get maximum ball speed and distance, even on mishits.
Construction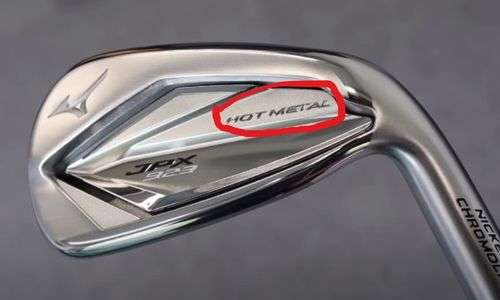 The JPX Hot Metal irons are built with a one-piece nickel chromoly cavity construction that provides exceptional strength and durability. This construction also helps to enhance the feel and feedback of each shot, giving you a better understanding of your swing and ball flight.
Excellent Head Length for Control
With a head length of 85.4mm, the JPX Hot Metal irons provide excellent control and feel on every shot. This length allows you to shape your shots with ease, giving you the ability to hit any shot you need on the course.
Who should consider
The contour of the Hot Metal clubhead is particularly fitting for those with mid to high handicaps. If enhancing your ball-striking and turf interaction is your aim, we suggest opting for the Hot Metal variant in Mizuno's latest launch.
Mizuno JPX 923 Hot Metal pro review
If you're in search of a distance golf club with a sleek design and a thinner top line, the Mizuno JPX 923 Hot Metal Pro could be an excellent choice for you. This all-out distance club comes with a player spec that offers a thinner sole and top line. It makes it an ideal fit for golfers who prefer a thinner look.
This golf club delivers high launch and ball speed with added spin, making it a fitter's dream. It also boasts a great Mizuno look and feel, which is sure to impress any golfer.
One-Piece Nickel Chromoly Cavity Construction
The Hot Metal Pro is also constructed with a one-piece nickel chromoly cavity. This construction method ensures that each club is crafted with precision and attention to detail, delivering consistent performance on every shot.
Who Should Buy
The Hot Metal Pro irons have been designed to cater to the needs of golfers with a low to mid-handicap range. These irons feature a slightly compact club head. This makes them an excellent choice for players who are transitioning from high handicaps.
Hot Metal Pro vs. Hot Metal: A Comparison
The Mizuno JPX 923 Hot Metal Pro is an exceptional addition to the expanded line of JPX Hot Metal irons. This club is specifically designed to deliver the perfect amount of stopping power for your swing DNA at impact. It offers a high launch, goes higher, and comes in steeper with a little more spin, providing excellent control on the greens.
Compared to the Hot Metal version, the JPX 923 Hot Metal Pro comes in a little bit shallower but still provides plenty of spins, resulting in a perfect blend of distance and precision. This iron pairs Mizuno's fastest-ever ball speed with piercingly straight ball flight and controllable landing angles.
Technology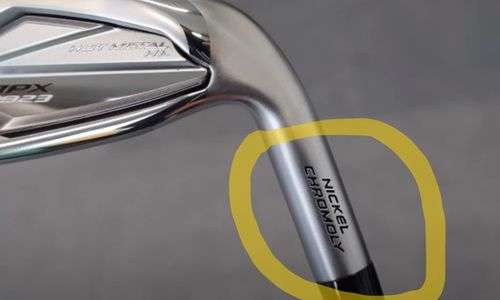 The technology story remains the same across the board, in the 923 Hot Metal series featuring new nickel Chromoly. Chromoly has proven to be a great material. It enables the design of golf clubs that deliver a ton of speed while also being highly customizable and custom-fit. This malleability allows Mizuno to dial in your proper loft and lie, providing the perfect fit for your swing.
Mizuno JPX 923 Forged review
Forged design for precision, control, and feel nothing's gonna beat that in terms of those characteristics. The new club provides all the precision and control of previous models while adding a touch of distance to each shot. This allows golf balls to go a little bit further while still feeling great.
The JPX Forge model has the longest lineage, dating back to the MX20 and MX23. One-piece Grain Flow Forged construction with forgiveness is Mizuno's trademark. This construction delivers on every category that a player is looking for.
Look & Feel
The look and feel of a Grain Flow Forging instill confidence in the player. The 923 Forge adds forgiveness and a bit of distance, checking every box. What is most admirable about the 923 Forge is how the performance outperforms the look. The iron may look thicker and meaner with a smaller cavity, but it plays much bigger. Players get so much more out of it, which is why the 923 Forged is so appealing.
The Mizuno JPX 923 Forged irons offer a mid-sized, full-body design that provides an ideal balance of ball speed, stability, and feel. These irons are perfect for golfers who demand exceptional performance without sacrificing control.
Chromoly Forging for Enhanced Performance
The JPX 923 Forged irons are equipped with Mizuno's 3rd generation of Chromoly Forging. This incorporates a milling slot that extends wider to heel and toe, enhancing the sweet spot and delivering incredible ball speed. The 4-7 iron in particular benefits from this technology, allowing players to hit longer and straighter shots than ever before.
Construction
Each iron in the JPX 923 Forged set is crafted using Mizuno's one-piece Grain Flow Forged construction method, ensuring exceptional quality and feel. The head length of 79.7mm provides excellent control and stability.
A Midsize Cavity for Enhanced Forgiveness
The JPX 923 Forged irons feature a midsize cavity that provides an ideal balance of forgiveness and precision. This design is perfect for golfers who want to hit longer, straighter shots while still maintaining control and accuracy.
Who Should Buy
The JPX 923 Forged irons are specifically designed for pro to mid-handicap players.
Mizuno JPX 923 Tour Review

Mizuno has taken an innovative approach to designing the JPX 923 Tour iron. They worked with the optimizer to understand how players are attacking the ball, examining factors such as shaft lean and angle of attack. They noticed a trend of players getting steeper and steeper with their angle of attack. This led to a careful examination of the club's sole.
In previous years, the JPX Tour iron had a low bounce, but Mizuno has added a touch of bounce and increased the camber of the sole. The result is a golf club that enters and exits the turf even cleaner than before. Thie provides exceptional performance on the course. The JPX 923 Tour offers a perfect blend of precision, feel, and workability that is sure to impress even the most discerning golfers.
A Smooth Sensation at Impact
What sets the JPX 923 Tour apart is the addition of a copper underlay, which provides an even smoother sensation at impact. This iron delivers a powerful yet controlled feel that's sure to impress even the most discerning golfers.
One-Piece Grain Flow Forged Construction
The one-piece Grain Flow Forged construction of the JPX 923 Tour ensures that each iron is crafted with the utmost precision. Attention to detail is also a top priority in the manufacturing process. The head length of 76.7mm provides excellent control and feel, giving players the confidence they need to take on any shot on the course.
Who should consider
The JPX 923 Tour is specifically designed for pro to elite amateur players. It offers a shallow cavity that provides the perfect balance of forgiveness and precision. This iron is built for players who demand the best from their equipment and are looking for a club that can deliver on every shot.