In golf, your equipment is of paramount importance. Every beginner or high handicap golfer, regardless of their ability, has that one burning question that never fully gets answered: What sort of golf ball should I use? What are the best golf balls for beginners?
There are multiple attributes that make these little things the right golf ball for you, but in this article, we are going to make that decision simpler than it's ever been before.
Choosing the Best Golf Balls for Beginners
You might think a golf ball is just a golf ball and doesn't really have any impact on your game, but actually, it does have an impact on how you score.
As we have already mentioned, golf balls are some of the most important pieces of equipment that beginner golfers will have at their disposal.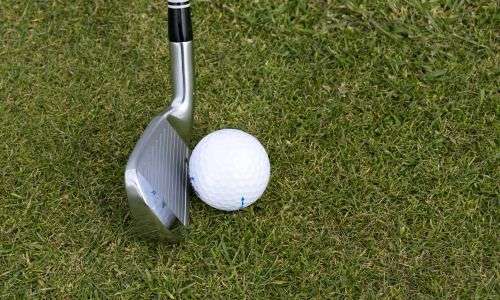 With so many options available for golf balls, including those built for distance, feel on the green, and colorful appearance, it can be overwhelming for beginners to decide which golf ball is the best fit for them. However, by carefully considering the factors that matter most, novice players can narrow down their choices and find the best golf balls for beginners that will help improve their game.
Should a beginner choose Titleist Pro V1 golf balls?
Probably the most well-known golf ball in the market is the Titleist Pro V1, but it can be expensive. If you play golf twice a week and lose three golf balls per round, over a year, that's over two thousand dollars lost in the bushes.
It is estimated that the Titleist golf ball plant produces over one million golf balls per day, which means a lot of lost golf balls and a lot of profit. This brings me beautifully to the point of this article – what are the best golf balls for beginners?
Ultimate Factors to Consider Before Buying Golf Balls
After thinking long and hard, and researching extensively on the internet, we believe that the perfect golf ball for you comes down to 2 main factors.
Factor no 1: Price
Factor no 2: Performance
With that in mind, we've done all the testing so you don't have to. We've taken what we consider the best golf balls for beginners and put them to the ultimate test of price versus performance, in order to provide you with the ultimate value-for-money rating across a range of different price points and performance levels.
Don't have time to read the full article?
Top 5 Picks For Golf Balls For Beginners
Srixon Soft Feel Golf Ball
Callaway 2017 Warbird dozen golf balls
Titleist TruFeel Golf Ball
Vice Golf Pro Soft Golf Balls
Callaway Supersoft Golf Ball
Srixon Soft Feel Golf Ball
The Srixon Soft Feel golf ball is highly praised by critics for its softness, distance, and spin control.
Its 13th generation boasts the latest FastLayer Core technology, reducing sidespin and maintaining a soft feel. As a beginner, the Soft Feel golf ball could be the perfect fit for those seeking less spin and a great swing.
Suitability for Beginners
In fact, it's one of the best golf balls for beginners who are looking for a ball that is easy to hit and provides a good distance.
Construction of the Srixon Soft Feel Golf Balls
The Soft Feel is constructed with a softer and thinner ionomer cover that is 5 percent softer than other golf ball covers.
Aerodynamic Dimple Design
This feature of the Srixon Soft Feel allows for a slew of great features. Its aerodynamic dimple design allows it to provide you with better and more consistent experiences, alongside offering you good speed.
Expertly Crafted Dimples
With 324 expertly crafted dimples, it provides better surface coverage, which ensures an expert shot every time.
Low Spin Control
This two-piece ball also ensures low spin while traveling, which allows you better control over your shots.
Affordable Price
All of these incredible features are being offered at a really affordable price. The Srixon Soft Feel Golf Balls are worth considering if you're a beginner or a high handicap golfer searching for the best golf balls to enhance your game.
Callaway 2017 Warbird golf balls
If you're a golfer who misses the days when nearly every ball was a two-layer design with distance as the primary concern, then the Callaway 2017 Warbird dozen golf balls might be just what you're looking for. The Warbird offers old-school performance but with a modern twist, thanks to its extremely thin outer layer – a common feature in modern golf balls. The best part? Callaway has managed to keep the price point low for these balls.
Despite the Warbird's emphasis on softness and feel, it's the impressive distance that really stands out. With its two-layer design featuring a larger-than-average soft core, the Warbird delivers excellent distance performance, especially off the tee. So if you're looking for a ball that can take you back to the old days without sacrificing modern performance, give the Callaway Warbird a try.
The aerodynamics of the dimple design on the surface allow it to perform well in windy conditions with its large core. The Warbird delivers a higher level of exit velocity off the clubface than other types of value-priced golf balls, which results in more distance. It will better serve a high-handicap player or beginner player who is concerned about ball spin. The value price point of the Warbird golf balls also fits these types of players better.
Callaway 2017 Warbird dozen golf balls earn the top spot on our best golf balls for beginners list because of their all-around performance at an affordable price.
Titleist TruFeel Golf Ball
Arguably, Titleist is the world's top golf ball brand. They offer a variety of options that work for almost any golfer. However, many average players think that Titleist golf balls are too expensive for them. The good news is that Titleist makes golf balls in a variety of price ranges, and TruFeel sits on the lower end of the spectrum.
The TruFeel golf ball has a very soft feel around the green, but it also provides plenty of distance from the tee. It is a golf ball that performs consistently and gives players plenty of control around the green. The TruFeel is available in red or yellow, and if you are an average swing-speed golfer, it should work well to help you with both distance and feel.
| TruFeel Features | Description |
| --- | --- |
| Model | Best for low and mid-swing speeds |
| Material | Ionomer |
| Colors | Classic white, yellow, and red |
| Dimple Pattern | Unique 376 tetrahedral design |
| Compression Level | Low-to-medium compression. |
| Aesthetics | Classic and timeless design |
| Cover | Thinner TruFlex cover for soft feel and control |
| Overall performance | Performs well in all aspects, without any notable weaknesses |
Vice Golf Pro Soft Golf Balls
The Vice Pro Soft golf ball is one of the tour line offerings by Vice that competes with other top brands in the market. It is specifically designed for slower swing speeds, typically 200 yards of carry or less with the driver, making it a great option for seniors, female golfers, and junior golfers. The ball features a urethane cover that provides excellent stopping power, making it an excellent choice for golfers who value control around the greens.

Vice Golf Pro Soft Golf Balls are high-performance golf balls designed for players who want a combination of soft feel, maximum control, and exceptional distance.
| Specification | Details |
| --- | --- |
| Construction | Three-piece golf ball |
| Cover Material | Cast Urethane |
| Core | High Energy Speed Core |
| Dimple Pattern | 318 |
| Cover Thickness | Extra-thin |
| Feel | Firm with good greenside feel |
| Compression | 35 |
| Alignment | KIL line with sharp edges |
| Suitable For | Beginner to casual players |
While the Vice Pro Soft golf ball is ideal for players with a mid handicap and low to mid swing speed, it may not be the best golf ball for beginners. Beginners may benefit from a softer ball that offers more forgiveness and distance, such as the Callaway Supersoft or Titleist TruFeel.
Pros
Respectable distance and forgiveness
Good spin
Offers a good feel and feedback
Cons
Not the cheapest option
May be too soft for some
Callaway Chrome Soft Golf Ball
The new Callaway Super Soft golf balls are available in three variations – the Chrome Soft, Chrome Soft X, and Chrome Soft XLS.
Callaway has improved the Super Soft ball by creating a two-piece ball with a very soft cover, which provides an extra soft feel and spin when chipping and putting off the tee. The Chrome Soft is the best option for beginners as it provides more help and forgiveness.
Features of the Callaway Super Soft Golf Balls
The Callaway Super Soft golf balls have an ultra-low 35 compression core, which is believed to produce low spin on drives and a soft feel on shorter shots.
Performance:
The ball carries long distances and has long roll-out for most swing speeds. When tested with a steel putter, it provides a firmer feeling that every beginner golfer prefers. The ball spins nicely around the greens too.
Durability:
The durability of the Callaway Super Soft golf balls is excellent and it only succumbs to scuffs from shots when landed on a certain path.
Popularity Among Mid-Handicappers:
This makes it easily one of the most popular golf balls out there for mid-handicappers.
What Type of Golf Ball is Suitable for Beginner Golfers?
Balance
Before considering any golf ball to purchase, make sure that its concentricity is spot-on. The weight of the core of every golf ball should be right in the middle. However, many golf ball brands struggle with this, so sometimes, the core of the golf ball isn't in the middle. Technically, the weight of it could be slightly left or right, which means that you could be hitting a draw or fade, pushing or pulling your shots down the golf ball.
Look for Durability
When buying golf balls as a beginner, durability should be one of the top considerations. Cheaper options may not last as long due to wear and tear or low-quality materials. More expensive options or trusted brand products are usually more durable and long-lasting, which ultimately saves money in the long run. Golf balls with harder covers are more resistant to damage, but softer covers may provide more comfort.
Understanding Your Playing Style
When starting out in golf, it is crucial to determine which aspect of the game you value the most. If your focus is on increasing your driving distance, then a harder golf ball with less spin and less likely to curve when hit off-center is a good option. On the other hand, if you want more control on the green and greater stopping power, you should choose a ball with a premium feel and a firmer grip.
Color Balls
Nowadays, you may use colored golf balls instead of only traditional white ones. They might be blue, purple, or orange instead. So, if you spend time among trees or have trouble seeing your golf ball when out on the fairways, balls in a different color are easier to see in a crowded field and last longer.
Check out the latest posts or visit the Home page for more reviews about products
Price
Before going to a golf store or website to purchase a pack of balls, consider how much money you want to spend in the beginner segment of the golf ball market. Due to the low prices of some of the options mentioned above, it is not uncommon to find sales that include 25 or 45 golf balls at a discount. Beginners lose many golf balls, so stocking up on as many as possible during the promotion is a good idea.
Golf Ball FAQs for Beginner Players
Q: What is the best golf ball for beginners?
The best golf ball for beginners depends on their individual playing styles and priorities. If the focus is on increasing driving distance, then a harder golf ball with less spin and less likely to curve when hit off-center is a good option. On the other hand, if more control on the green and greater stopping power is desired, then a ball with a premium feel and a firmer grip may be better.
Q: Which golf ball is best for me as a high handy cap golfer?
A: As a high handicap golfer, you may benefit from using a softer golf ball that provides a better feel and increased control around the green. A ball with a low compression rating can also help with slower swing speeds and provide more distance.
Q: What golf ball is best for me if I want to increase my driving distance?
A: A harder golf ball with low spin and less likely to curve when hit off-center is a good option for increasing driving distance.
Q: What is the best golf ball for seniors?
A: Seniors can benefit from using a golf ball with a lower compression rating, which can help with slower swing speeds and provide a better feel.
Q: How do I drive a golf ball for beginners?
A: Driving a golf ball can be challenging for beginners. It's important to start with a comfortable stance and grip, keep your head down, and swing through the ball, not at it. Practicing with a lower compression ball can also be helpful in achieving more distance.
Q: What is a golf scramble vs best ball?
A: A golf scramble is a format where all players in a team take a shot and then choose the best shot to continue from. In a best ball format, each player plays their own ball and the best score on each hole is recorded for the team. Choosing the right golf ball for these formats depends on the specific rules and goals of the game.