The quest for the perfect water bottle is weirdly confusing and can be an intimidating experience. That's why we've curated a list of the best 2 liter water bottle to help quench your thirst.
Following stylish water bottles are not only aesthetically pleasing but also incredibly practical for daily use. So, make sure you have one of these trusty bottles by your side, and your body will thank you.
Why 2 liter water bottle trending among health enthusiasts
Normally bottles with less beverage capacity are not suitable for people who often find themselves unsatisfied with bottles that require frequent refills. It's no wonder why so many health-conscious individuals are gravitating towards these larger water bottles to ensure they meet their hydration goals.
So why settle for a standard-sized bottle when you can upgrade to a 2-liter capacity? Our featured products are designed specifically for those seeking a larger water capacity without compromising on style and features. So, check out the nitty-gritty details of our top picks for the best 2-liter water bottles in this article.
Our recommended 2 liter water bottle
Don't have time to read the full review? Our recommended 2 liter water bottle is the ultimate choice for all your hydration needs. With its convenient design and ample capacity, it's the perfect companion for any adventure.
Our Top Picks for the Best 2 liter Water Bottles
H2go water Bottle (By Hydro Flask)
Stainless Steel Water Bottle (by Iron Flask)
Squeeze Water Bottle (By Polar Bottle)
infuser water bottle (For the Flavor Enthusiast By Hydracy)
Bubba Water Bottles
Anime Water Bottle (For the Anime Fan)
Smart Water Bottle (By Hydracy)
H2go Water Bottle (By Hydroflask)
If you are into classic and durable water bottle products that come with a range of beverage capacities. The Hydroflask brand is a solid and dependable brand to look out for. Their bottles are well-insulated and comfortable to carry and come in a handful of bright and neutral colors. The H2Go 2 liter water bottle from Hydroflask can be an exceptional choice to look for.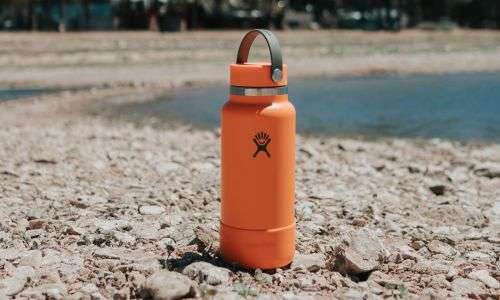 Key Spec
Size options (ounces): 20, 32, 40, 64
Lids available: Flex Cap
Dishwasher safe: Yes
Colors Availability: Black color is available in the 64 oz bottle, but a range of colors is available in different sizes of bottles.
What makes H2go water bottles exceptional?
Its TempShield️ double-wall vacuum insulation adds insulation to keep your liquids hot or cold all day. Furthermore, Its sleek and stylish bottles are not only a fashion statement but their convenient size and comfortable handle make it easy to carry around with you wherever you go.
Who should consider:
For the Chic and Stylish Hydrators. Who prefers versatility in designs and ample capacity.
Stainless Steel water bottle (By Iron Flask)
In today's hydration-obsessed world, having a functional and aesthetically pleasing reusable water bottle seems like a necessity. Not only is carrying a reusable water bottle better for the environment, but it is also more cost-effective than constantly buying bottled water. That's why Our second recommended product also comes with stainless steel by Iron Flask Brand.
What are the exceptional features of this 2 liter water bottle?
Crafted from premium-grade 18/8 stainless steel, the Hydro Flask is a durable and reliable choice that will stand up to the toughest conditions. Its innovative double-walled vacuum insulation ensures that your drink stays at the perfect temperature for hours on end, while the leak-proof design ensures that your drink stays securely contained.
Who can consider:
Anyone seeking a versatile option that can seamlessly adapt to various situations, whether it be sitting at a desk, commuting on a subway, or working out at the gym.
Squeeze water bottle (By Polar Bottle)
The beauty of a squeeze water bottle lies in its simplicity. No fumbling with lids or straws, no worrying about spills or leaks. With just a gentle squeeze, you can take a refreshing sip of water whenever you need it, without missing a beat.
It is made with lightweight plastic instead of glass to prevent shattering though you can add a silicon or leather sleeve for additional protection. These sleeves also add insulation to keep your liquids hot or cold all day like a stainless steel water bottle would.
Who should consider:
Perhaps those who desire a hassle-free way to take sips while walking on the concrete or those who need a little extra motivation to consume enough water during the day.
Infuser 2 Liter Water Bottle (By Hydracy)
Hydration is essential for maintaining good health. However, most of us fail to consume the required amount of water each day. While regular water suffices, sometimes its bland taste leaves us wanting more. Moreover, on busy days, we often forget to pause and hydrate. This is where infuser water bottles come in handy.
Infuser water bottles are an excellent way to boost your fluid intake. By infusing water with fruits or herbs, it becomes more appealing, making you more likely to drink at regular intervals throughout the day.
What's Special about Hydracy infuser water bottle
The Hydracy infuser bottle has several noteworthy features that make it stand out.
It includes a timeline on the side which serves as a water tracker bottle, enabling users to monitor their water intake throughout the day.
With a generous 2-liter liquid capacity, this infuser water bottle ensures that you stay hydrated for longer without the need for constant refills.
Its easy-to-carry design allows for on-the-go use, and its leak-proof feature ensures that you can toss it in your backpack or gym bag without worrying about spills.
Its wide mouth design makes it effortless to add fruit and ice to the infuser.
Who can consider
This is especially common among gym-goers and athletes, but anyone who wants to supplement their water intake with additional electrolytes can benefit from doing so.
Bubba 2 liter Water Bottles
Key spec
Size options (ounces): 24, 32, 40, 64
Lids available: Wide-mouth opening Lid
Dishwasher safe: Yes
Bubba water bottles, made in the USA, may look like standard water bottles, but they have a secret that stainless steel water bottle users will find appealing. There are more sizes available compared to some brands, and there's not a huge difference in similar sizing. This makes Bubba water bottles an ideal choice for those seeking a 2 liter water bottle or less to cater to their individual needs, while also supporting American-made products.
What Makes This Bottle Exceptional?
Huge Capacity: The Bubba water bottle boasts a massive half-gallon capacity, ensuring that you stay hydrated throughout the day, no matter where your adventures take you.
Vacuum-Insulated: Made from vacuum-insulated stainless steel, this bottle is designed to keep your drinks cold for an impressive 48 hours. Plus, its double-wall construction ensures that the outside stays condensation-free, keeping your hands dry even in hot weather.
Leakproof Chug Lid: The Bubba bottle features a leakproof chug lid that seals shut and locks for no leaks. Drinking is easy – just push the button to open the cap and take a sip. When you're finished, close the cap to protect the spout and straw from dirt and grime.
Easy to Carry: With its comfortable carry handle, the Bubba bottle is easy to take with you on all your adventures, whether you're hitting the beach, attending a festival, or going for a hike.
Easy to Clean: The bottle is BPA-free and has a top-rack dishwasher-safe lid, making it easy to clean and maintain.
Consider This If:
You value lightweight portability but you don't want to sacrifice insulation the Stainless Steel water bottle by Bubba water bottle offers a balance between the two.
Naruto Main Characters 24 Oz Single Wall Water Bottle
Anime's popularity is skyrocketing in the past few years. As a true fan of the popular anime series Naruto, you know that it's not just about watching the show – it's a way of life. And what better way to show your love for the series than with the Bioworld Naruto Kakashi Kanji water bottle?
About This Anime Water Bottle
This personalized water bottle for kids is an officially licensed product, which makes it an excellent gift for any fan of the anime series. When it comes to cleaning, simply place it on the top rack of your dishwasher for easy and hassle-free maintenance.
Wrap Logo Design
Bioworld water bottle features a stunning wrap-around design that showcases Kakashi in a defensive stance in front of the Hidden Leaf Village symbol. The green Kanji letters spell out the character's name, adding to the overall aesthetic. The attention to detail is exceptional, making it the perfect addition to your Naruto collection.
Smart water bottle (with 2 liter capacity)
Smart water bottles, like a 2 liter water bottle, come with several advanced features that make them different from a traditional water bottle. These bottles have tech-forward features that can remind you to drink, sanitize your water, send you their location, and more. While they are usually more of an investment than traditional bottles, a smart water bottle may be a smart buy if you've tried other ways to boost your water intake with limited success.
Let's discuss the essential aspects of a smart water bottle, including a 2 liter option, in detail.
Who Should Use a 2 liter Smart Water Bottle?
A 2-liter smart water bottle is beneficial for anyone who wants to increase their water intake or track their hydration level. There's something about a smart water bottle that makes it easy to mindlessly consume the 20, 30, 40, or 64 oz of water you may have ahead of you. It is especially useful for athletes, gym-goers, hikers, and people who work in hot and humid environments.
What Makes Hydracy smart 2 liter water bottle Exceptional?
The Hydracy smart water bottle has a capacity of 2 liters, making it ideal for people who need to drink a lot of water throughout the day. It is available in a moonlight green color and comes with a 27 Detox Fruit-infused water recipes eBook bonus. The bottle comes with a detachable carry strap that makes it convenient to carry while on the go. It also has a lock feature that prevents accidental spills.
How Does a Smart Water Bottle Work?
Smart water bottles use advanced technology to help you drink more water. They come with various features such as reminders, built-in temperature gauges, and LED lighting that tell you when it's time for a refill. Some bottles have sensors that can measure the amount of water you consume and log the data in an app on your smartphone. Others can play music from your phone using Bluetooth or have a power bank that can charge your devices throughout the day. Some models even have self-cleaning modes.
Related article: Best 1 Liter Water Bottles
Frequently ask questions about 2 liter water bottle
Q: How many bottles of water should I drink a day? A: The recommended daily water intake varies depending on factors such as age, weight, and activity level, but a general guideline is to drink at least eight 8-ounce glasses of water per day (2 liter water bottle).
Q: How long does bottled water last? A: The shelf life of bottled water depends on factors such as the type of plastic used, the conditions it is stored in, and whether or not it has been opened. Unopened bottled water stored in a cool, dark place can typically last up to two years.
Q: What is the best bottled water for kidneys? A: There is no one-size-fits-all answer to this question, as the best type of bottled water for kidneys may vary depending on an individual's specific health needs. However, some brands of bottled water that are high in magnesium and low in sodium, such as Fiji and Evian, may be beneficial for kidney health.
Q: How many ounces in a water bottle? A: The size of a water bottle can vary, but a standard plastic water bottle in the United States typically holds 16.9 fluid ounces or 500 milliliters of water.
Q: How many water bottles make a gallon? A: It takes approximately 7.5 standard 16.9-ounce water bottles, or a little over 4 standard 2 liter water bottles to equal one gallon of water.
Q: How many cups are in a bottle of water? A: A standard 16.9-ounce water bottle is equivalent to just under 2 cups of water.
Q: How many ounces are in a water bottle? A: A standard plastic water bottle in the United States typically holds 16.9 fluid ounces or 500 milliliters of water.