How to select a good cricket academy? A good cricket academy can truly make or break whether someone becomes a cricketer or not. The good thing is that such academies are becoming more common with each passing year.
Pursuing a successful career in cricket is a crucial task. Not everyone, irrespective of their interest or hard work, is able to reach the skies. Getting identified as an international cricket player is a matter of hard work and a lot of effort. Even after all the factors are under control, professional guidance and direction are very important. Without a proper direction and without a cricket academy all the efforts and sometimes even an extraordinary talent might go in vain. So, in order to prevent such mistakes a good academy is needed by every cricketer to pursue their goal of becoming a professional player.
How Can I Become a cricketer?
So you want to be a cricketer, but you don't know where to start. Or maybe you just don't have the time to learn everything there is about cricket.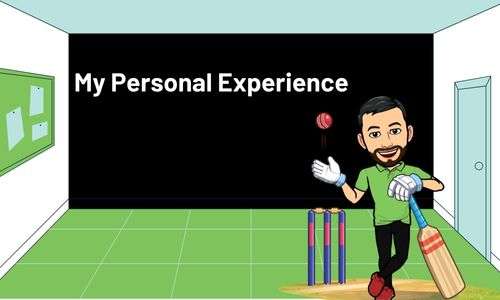 Personal Experience
I was in a similar situation when I was starting out and looking for a good cricket academy so that I could progress as fast as possible. And also to get noticed by scouts. I knew it was important to take my game seriously but didn't know what kind of academy would be right for me, or how to find one.
After all, there are hundreds of cricket-focused academies around the world offering classes in different techniques and leagues. Choosing one that suits your needs isn't always easy because it depends on many factors like location, experience level, the kind of lessons offered by instructors, etc. While there are plenty of options available today in terms of academies to learn from. Here's how I picked my perfect academy for learning about cricket and wish others will find this article useful!
Cricket is a game that everyone loves to play. But if you have not yet reached a level where you have made yourself available for selection, it might be very difficult for you to get into the national team. There are many national teams in the world where players are picked based on their performance during different tournaments and leagues. If you want to be one of them, then it is your duty to make sure that your academy is on par with the rest.
Related Article
How local club cricketers can register to play T20 Franchise leagues globally?
Tips to select the right cricket academy
Choosing a good coaching academy is an important factor to consider when you have aimed at becoming a professional cricketer. There are no particular criteria for what a good academy can be. These criteria can differ from person to person based on their preferences, interests, and experience. This is a very crucial role upon which your whole cricket career is dependent. Not doing your homework and making a wrong choice can delay or abolish your cricketing career altogether. While the right choice of a cricket academy can polish and enhance your skill and help you become a professional cricketer.
A few factors that you can consider before selecting the right cricket academy are highlighted below.
1. LOCATION OF THE CRICKET ACADEMY
While this may seem quite trivial, the location of the cricket academy is a very important factor to consider.  People may join academies that are too far for them to commute to and eventually become irregularly attend them. A long commute can waste their energy level that otherwise could have been put into the actual goal. 
2. CRICKET ACADEMY'S INFRASTRUCTURE
A book is judged by its cover is a famous notion. After entering a cricket coaching academy, the first impression we have is their infrastructure. It is very important to carefully look into the details of whether the academy has a proper cricket infrastructure and facilities. How many days of training do they give on regular basis?
For a novice or professional it is important to know that a good infrastructure includes a batting pitch, a number of nets, and a broad covered area of the academy. Does the academy have the right infrastructure and facilities?
A good cricket academy has a range of pitches to give extensive exposure to the learners. The number of nets available and an open cricket ground for match simulation is key factors to consider in choosing a cricket academy. If the academy itself doesn't have a cricket ground so it's important to know if they arrange regular matches on cricket grounds.
3. SKILLED COACH
Wanna become a cricketer? The first thing that cricketers need is a coach who can guide them through their early steps until they are ready to play higher level. Coaching can be an invaluable asset in providing aid to becoming a cricketer. In cricket, you have to have a good coach who can teach you how to play cricket in the right way. Having an experienced coach who can guide you through your journey will help you reach your desired goals. You should also look at the reputation of a cricket coach before considering it.
Qualities of a good Cricket Coach:
A trainer is a person who doesn't only know the subject but should be able to deliver the subject matter effectively to the students. A good coach should be skilled and experienced in training students with a focused approach. The right approach to train might differ from coach to coach. Few might emphasize hard work and more practice. While others have years of experience on the basis of which they guide the learners to play smart and efficiently. Like any other game, playing cricket is not based on a set of rules. It is an amalgam of smart play and hard work. Not one size fits all therefore it is important for a coach to teach where smart play might work well and where the game must be handled tactfully.
4. EMPHASIS ON FITNESS TO BECOME A BETTER CRICKETER
If we talk about cricket coaching academy, every other academy focus on batting and bowling skills. What needs to be addressed here is to understand the need for overall fitness so they perform well in fielding. Like batting and bowling, fielding is an equally important skill that is overlooked. We have seen a lot of talented cricketers who couldn't make their place in the international due to fitness. Because of this, many aspiring cricketers might miss out on the opportunity to compete at the international level, where all three skills are equally important.
5. PRACTICE MATCHES & OFF-SEASON ARRANGEMENTS
Cricket academies have nets to provide maximum practice to the players. Although the practice is an equally important factor, playing cricket on actual cricket grounds and simulating a cricket match. Most of the players perform well on nets but when it comes to playing on-ground cricket many of them might fail. Therefore playing against clubs on different levels will give them enough exposure and confidence to play professionally.
Another thing you should look at is how a particular club or academy arranges its off-season schedules. This is very important to know the contingency plan of a cricket academy. In countries like India and Pakistan, where monsoons might range from 3-4 months. The academy has other activities planned to keep the players motivated and in the flow.
6. COACH TO STUDENT RATIO
Calculating coach to student ratio in a cricket academy is a factor not to be overlooked at all. If there are fewer coaches or more students then there is a greater chance that one-on-one guidance will not be provided. This might affect the overall result of that particular academy. So it is also important to do your homework on whether the academy has produced enough professional cricket players or not.
7. ACADEMY'S FEE STRUCTURE AND PRACTICE TIMING
It is important to know that the academy's fee structure is justified on the basis of the facilities they provide. If the academy has state-of-the-art infrastructure, facilities, trainers, and coaches, a high fee amount is justified. This, however, depends solely on your own budget. Time of practice should also be considered. As most academies provide twice-a-day match practice sessions so it is easier to choose your preferred and convenient timing.
Also, Read
T20 world cup 2022 revenue | How ICC Earns and distribute money
How to become a cricketer without academy
The importance of a good cricket academy to become a cricketer cannot be overemphasized. In your professional cricket journey, A good cricket academy can be an invaluable asset to aid you to become a cricketer. A good coaching center will provide you with the support and training required to become a successful cricketer. Without having proper training and coaching center is almost impossible to survive at the international level.
Final Tips on How you can become a cricketer
So if you aspire to be a professional cricketer, and you have already aimed about it. Then it is the right time to jot down your preferences. Do your own research, ask about their teams and take insights from the internet. Take opinions from experienced players and especially take notes from people who have failed time and again. But didn't give up as they might give you the kind of information you are longing for. Otherwise, It will be difficult for you if you don't find such a quality portal where you can find many potential coaches or resource centers on how to become a cricketer. So Get Your Game On, The Right Coaching Center Can Help You Become a Professional Cricketer.
Also, read the article from wikiHow to become a professional player