There is no doubt that cricket is one of the richest sports in the world. The cricketing world has seen some truly outstanding players over the years, many of whom have gone on to become household names. But which cricketers are the richest of them all?
Unsurprisingly, Most of the richest cricketers in the world are Indian, thanks to India's lucrative ties to the sport. This is because of IPL. IPL is the richest cricket league in the world as it is more lucrative than other cricket leagues like BBL, PSL, BPL, CPL, and LPL. Many of the richest cricketers in the world are from India, a country where cricket is hugely popular and the sport's top stars are household names. Here are some of the richest cricketers in the world and how they make their money.
Revenue Streams of Richest Cricketers
The game has produced some of the richest cricketers in the world. These cricketers earn their money through a variety of means. Some of the richest cricketers earn their money from playing cricket, while others have businesses or other sources of income.
These players can earn millions of dollars per year from their salaries, match fees, and sponsorship deals. There are the following sources that will solidify the characteristics that make their lives easy, so keep your eyes on the next paragraph.
1. Board Contract
Cricketers earn money based on their contract-based salaries. These contracts are made between the player and the cricket board. The board designs the contracts, keeping in view the progress of the player in a team.
2. ENDORSEMENTS OR SPONSORSHIP:
Cricketers receive a small base wage from their national boards and make the majority of their income from endorsements and appearances. Sponsorship deals with brands like MRF, Asics, Oppo, Coca-Cola, and Nike usually go into Millions with well know cricketers.
3. Domestic Leagues Contract
The domestic League specifies a reasonable salary for every player. The league has become one of the sport's biggest revenue earners, with its teams consisting of some of the most marketable stars in the sport. Cricketers can also earn serious money from playing in competitions outside of their national board contracts.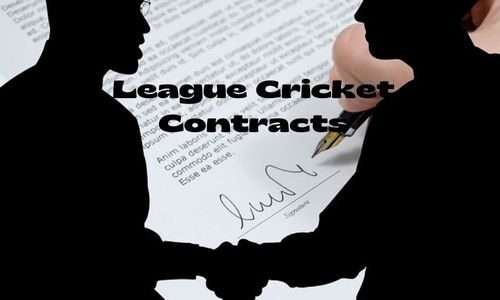 The cricket players who make the most money are usually the ones who play for the biggest teams, such as the Indian Premier League or the Australian Big Bash League.
4. BUSINESS VENTURES
Many of the richest cricketers also have businesses or other sources of income. For example, Shane Warne has a clothing line, while Sachin Tendulkar has an investment portfolio. These additional sources of income help to make the richest cricketers even richer.
The richest cricketers in the world are mostly retired players. As Cricketers may use their fame and popularity to establish and conduct business ventures. Cricketers are not only dependent on the outcome of their fixed ratio from the revenue of the matches, but they also invest their time in other services, and marketing and business are one of them through which they can earn in the best possible way.
5. Websites earning of richest cricketers
Some of these wealthiest cricketers have made their fortune by creating their social media, websites where they sell products and services, and other small businesses like YouTube channels or blogs that run on various topics related to cricket.
Top 10 Richest cricketers in the world
Here is the list of the top 10 richest cricketers in the world are:
1. Sachin Tendulkar
Sachin Tendulkar is widely regarded as one of the greatest batsmen of all time. He is also the richest cricketer in the world with a net worth of $160 million. Tendulkar retired from cricket in 2013 after a decorated career spanning 24 years. He earned his money through cricketing contracts, endorsement deals, and business ventures. He has played for India for over two decades and has amassed an incredible amount of wealth during his career.
2. Virat Kohli
At the top of the list is India's legendary batsman Virat Kohli, who is estimated to be worth a whopping $130 million. The former Indian skipper is the only cricketer to feature in the Forbes list of the world's highest-paid athletes. Virat Kohl's net worth in Indian rupees is 10,631,530,000.00 INR.
Sources of Virat Kohli's Income
Virat Kohli's income and revenue streams are numerous. Here's a look at Virat Kohli's earnings and how he is one of the richest cricketers in the world.
endorsements: He earns around $5 million annually from endorsements. A large chunk of Virat Kohli's income comes from the numerous endorsement deals over the years. Kohli has some of the biggest brands in his kitty including Puma, MRF, Hero two-wheelers, Audi cars, fashion platform Myntra, American Tourister luggage, Vivo smartphones, Hyperice wellness, and many more.
Virat Kohli's Instagram Income: According to Hooper's 2022 Instagram Rich List, the former India skipper charges a whopping Rs 8.69 crore in exchange for one sponsored post on his verified Instagram account—the fourth most on the list of highest-paid athletes after footballer Cristiano Ronaldo, Leonel Messi, and tennis icon Roger Federer.
Board Contract: As an A+ categorize cricketer BCCI owes 7 crores per annum to Virat Kohli.
Virat Kohli's IPL Contract: The BCCI pays him an annual salary of 7 crore Indian rupees while his IPL contract with Royal Challengers Bangalore is worth more than BCCI's yearly contract. The key player of Royal challenger Bangalore (RCB) charges 17 crores per annum.
Match fees and Prize money: According to the central contracts of the BCCI, Grade A player Virat makes large sums just as a player. As a grade-A player, Virat Kohli receives a yearly retainer price and payments of Rs. 15 lakh, Rs. 6 lakh, and Rs. 3 lakh for participating in Test matches, ODI matches, and T20 matches, respectively.
3. MS Dhoni
MS Dhoni is a world-renowned cricketer and one of the most successful captains in the history of the sport. Dhoni's success on the field has led to him becoming one of the richest cricketers in the world. According to Forbes, Dhoni's net worth is estimated to be $120 million. This puts him among other well-known cricketers like Sachin Tendulkar and Virat Kohli. Dhoni's net worth is proof of his immense success both on and off the cricket pitch.
Dhoni has earned his fortune through a combination of cricket earnings, endorsements, and business ventures. He is one of the most marketable athletes in the world and has a multitude of endorsement deals with some of the biggest brands in India. He also owns a stake in several businesses, including a successful sports management company.
4. Ricky Ponting
Next on the list is Australia's most exceptional cricketer and Most successful Captain, Ricky Ponting has a net worth of $65 million. Ricky Ponting has had an unbelievably cricketing career, with three consecutive World Cups, two as a captain, scoring 27,000 runs in his international appearances for Australia. He is also Australia's most successful Test captain too, having led the team to 48 wins in 77 games.
5. Brian Lara
Lara's net worth is estimated to be $60 million. Brian Lara is a retired West Indies cricketer. He is widely considered one of the greatest batsmen of all time. He holds several world records, the highest score in a Test inning, having scored 400 not out against England in 2004. Having a successful career in Test cricket, Lara was equally successful in One Day International.
6. Virender Sehwag
Virender Sehwag is a former Indian cricketer and one of the most successful batsmen of all time. He is also one of the richest cricketers in the world, with a net worth of over $50 million. Outside of cricket, Sehwag has also been successful in business, with several investments and endorsements under his belt.
Sehwag started his career as a middle-order batsman but soon established himself as one of the best opening batsmen in the world. He is known for his aggressive batting style and his ability to score runs all around the ground. He has won many awards including the ICC Test Player of the Year Award(2010), Wisden Leading Cricketer in the World (2008, 2009), and Arjuna Award(2002).
7. Yuvraj Singh
As of 2022, Yuvraj Singh's net worth is $40 million. He is a successful entrepreneur and humanitarian. He has earned his wealth from his successful career as a cricketer, as well as from his business venture YouWeCan.
Yuvraj Singh is an Indian former cricketer who has been a member of the Indian national cricket team in all formats of the game. He is an all-rounder who bats left-handed in the middle order and bowls slow left-arm orthodox spin. He is the son of former Indian fast bowler and Punjabi actor Yograj Singh.
Yuvraj made his debut for India in 2000 and was a member of the squad that won the 2011 World Cup. He has won 7 Player of the Series awards in ODI cricket and was awarded the Arjuna Award in 2012. He announced his retirement from international cricket in June 2019.
8. Shane Watson's Net Worth
Shane Watson is a retired Australian cricketer and successful entrepreneur. His net worth is estimated to be $40 million. He is one of the richest cricketers in the world and has earned his fortune through his successful career in the sport.
Watson made his fortune through a successful cricket career that spanned over two decades. He was one of the highest-paid cricket players in the world, earning millions of dollars in salary and endorsements. Watson also started his own business ventures, including a cricket academy and a sports management company. Watson has also endorsement deals with various brands, which has helped him to boost his net worth even further.
After retiring from international cricket in 2016, he continues to play Twenty20 cricket for various leagues around the world. He is also a successful commentator and has worked as a television presenter. Watson has also written a number of books, which have further added to his wealth.
9. Chris Gayle Richest cricketer from West Indies
Chris Gayle is a world-renowned cricketer who has amassed a considerable fortune over the course of his career. Gayle's net worth is estimated to be $35 million and his net worth is expected to continue to grow in the years to come.
10. Rohit Sharma's Income
As of 2023, Rohit Sharma has an estimated net worth of $24 million (190 crore Indian rupees). Indian cricketer and current Indian team captain Rohit Sharma is one of the highest-paid cricketers in the world, earning an annual salary of 17 crores from the Indian Premier League (IPL) team Mumbai Indians. He also earns a significant amount of money from endorsements, with some of his sponsorship deals including Lays, Relispray, Dream 11, Noise, IIFL Gold Loans, Oppo, Sharp, CricKingdom, Trusox, New Era, Aristocrat, Rasna, Oakley, Massimo Batteries, Vega, Nissan, Finance Keeper, GoIbivo, Vodafone DTH, Walkaroo, Tag, Royal Stag, etc.